Loan Shark
(1952)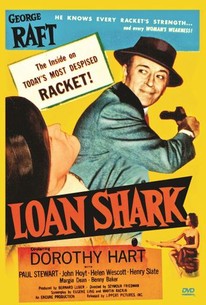 AUDIENCE SCORE
Critic Consensus: No consensus yet.
Movie Info
Loan Shark was one of several independently-produced films made by George Raft in the early 1950s. Raft plays Joe Gargan, a good guy who pretends to turn bad to trap a gang of usurious loan sharks. In order to convince the crooks that he's on their side, Gargan is forced to call it quits with his sweetheart Ann Nelson (Dorothy Hart). Once he's accepted by the villains, Gargan dreams up an elaborate new method of siphoning money from an unsuspecting public. Inevitably, however, the villains get wise to Gargan's subterfuge, and for a while it looks like curtains for our hero. One of the most appealing aspects of Loan Shark is the no-frills cinematography of Joseph Biroc, who went on to such loftier pursuits as The Towering Inferno.
Critic Reviews for Loan Shark
Audience Reviews for Loan Shark
Raft gave me the impression of not belonging in this movie for some reason, his character was an outside, but it wasn't that. This film has a highly predictable story, unfortunately. But it wasn't too bad, just okay.
This was a real enjoyable Black & White Gangster Film with lots of style. With George Raft playing the lead role. I rented it because I am checking out all available movies with Ross Elliott in them, Ross played a very small part in this film which went unaccredited. This Movie only lasted about 78 Minutes, and is part of a Double Feature, my copy was the Forgotten Noir Volume 2, it doubles with Arson Inc, if all the movies in the Forgotten Noir Collection are as good as this one I will start a new collection. This movie is full of thrills, guys fighting in suits and keeping there hats on there heads, lines like I?ll stick closer to him then his underwear. Raft grabing a girl and laying a hardy lip lock on her that by todays standards in America could get you a trip to see the judge. I enjoy the fact that Raft starts out working in a tire factory and its hows tires being made, couldn?t do that in 2009 unless of course you went to China. Has a great twist at the end. 4 to 5 Stars all the way. Throw me another B&W Please.
Bruce Bruce
Super Reviewer
Loan Shark Quotes
There are no approved quotes yet for this movie.