Local Call (Ne Quittez Pas!)
(2004)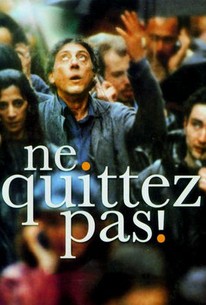 AUDIENCE SCORE
Critic Consensus: No consensus yet.
Critic Reviews for Local Call (Ne Quittez Pas!)
There are no critic reviews yet for Local Call (Ne Quittez Pas!). Keep checking Rotten Tomatoes for updates!
Audience Reviews for Local Call (Ne Quittez Pas!)
½
Not exactly sure what to make of this film. On the one hand, it does offer some thoughtful examination of a son's relationship with his father and how that might affect the relationship once the son has a child of his own. It's also about accepting your heritage, whether or not you're proud of the past difficulties it has brought you, no matter if you're not to blame. But it does so in a way that isn't particularly inviting or entertaining. The story, essentially, is that Felix starts getting calls from his father Lucien. The problem is that Lucien's been dead for 2 years. Wacky! As Felix gets more and more involved in this farce, his mind slowly starts to unravel and he loses everything that was near and dear to him. His son, wife, job, and house. He even gets arrested because the calls that he's been making to his dead father, using other peoples' phones, cost up to $15,000 per minute. The mystery is in the reason why Lucien wants his son to reacquire his father's old coat, that he gave away to a homeless guy who sold it to someone else. Honestly the film is all about Felix losing everything, in search of this coat, in order to figure out how to be the best father to his son that he could've been. Which is strange when you take into consideration that the guy was a good father to begin with. He may have been a little up in the stars, ironic given his job, but he was never bad father or inattentive to his son. His wife may have been another issue, but he was always good to his son. Which makes this journey a little strange. The acting is perfectly fine and the movie is never really bad at any moment, it just feels like a whole lot of talking for a whole lot of nothing quite frankly. Yea I noted that it had some some more thoughtful themes than it would seem at first glance, but it never really hit me on a deeper level. And this coming from someone who grew up with an absentee father, so you'd think that this would appeal more to someone like me. Communicating with a dad that you never really knew? That should be fodder for me. But it just never clicked with me that much. Not to mention the fact how heavy-handed and serious it gets once Felix meets Yael. Almost needlessly too. I don't wanna say it felt out of place, since the film revolved around this coat, and I doubt it wouldn't have revolved around this coat if it wasn't for something truly important, but it still didn't really fit. The movie isn't honestly that funny, mostly relying on the absurdity of the situation and Felix's worsening mental state for its laughs. It's a definite hit and miss. This isn't a bad movie, but one that doesn't really do much to truly stand out. It tries, earnestly, to tell a deeply personal story, but this felt somewhat hollow. It's not terrible by any means, but you won't miss anything if you decide to never watch this film. You won't regret it.
Jesse Ortega
Super Reviewer
Local Call (Ne Quittez Pas!) Quotes
There are no approved quotes yet for this movie.