Local Hero
(1983)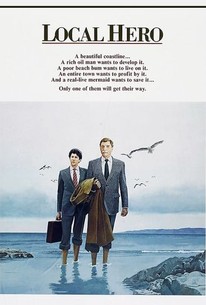 TOMATOMETER
AUDIENCE SCORE
Critic Consensus: A charmingly low-key character study brought to life by a tremendously talented cast, Local Hero is as humorous as it is heartwarming.
Movie Info
This film stars Burt Lancaster as Texas oil baron Felix Happer, who sends employee MacIntyre as an emissary to a Scottish fishing village to negotiate for the rights to the town's oil reserves. Surprisingly, the Scots are more than anxious to sell, and MacIntyre's trip becomes progressively stranger.
News & Interviews for Local Hero
Critic Reviews for Local Hero
Audience Reviews for Local Hero
½
An oil company executive (Peter Riegert) is sent abroad with the unwieldy mission of buying a small town, no less, and on the cheap, little aware that everyone in town is expecting him and are already spending those petrodollars in their heads. It's a simple tale, and simply told, about how the simple things, and simple life, have charms to soothe the savage breast. Burt Lancaster nearly steals the piece as the epitome of an eccentric rich guy.
Kevin M. Williams
Super Reviewer
A taste of the quaint life of rural Scotland back in the early 80s when the oil giants were still considered a necessary evil. This really is a British classic with memorable characters and a signature theme tune in Mark Knopfler's synth score.
Ross Collins
Super Reviewer
I really cannot praise Local Hero enough; it is simply one of the best films ever made and certainly, without any shadow of doubt, my number one favourite movie of all time. Fans of Ealing Comedy will relate to this film instantly. The humour is extremely subtle, going for the quirkiness of human behaviour rather than prefabricated belly-laughs. For example, the two farmers arguing which is the better vehicle for transporting winter lambs, Massarati or Rolls Royce. And the African preacher who has to explain that he's "not Scottish either" but still has the surname McPhearson. At first glance, the story of Local Hero is hardly one which would engage fevered interest. A big Texan oil company wants to buy a huge chunk of Scottish coastline and a representative is flown over to close the deal. Chosen because it's thought he is of Scottish origin, McIntyre (Peter Riegert) complains to a colleague that he could do the deal over the wires in an afternoon and that his parents chose the surname when they got off the boat from Hungary because they thought it sounded American. But what grabs the attention and is the fundamental beauty to the film is "Mac's" journey from a materialistic Texan yuppie to one who falls in love with the simple things of life and by the film's end, when Mac returns home, has been changed forever by his trip. Mac plays his part very well from a character who depends on his expensive suits, his Porsche, quad hi-fi and personal health insurance to one who collects shells on a Scottish beach and drinks 40 year-old malt whisky in the bosom of the small community that he suddenly finds himself a part of. Burt Lancaster plays the wonderfully eccentric oil company CEO who is more concerned with dicovering a comet of his own than making millions of dollars. Then of course there is Denis Lawson as the estate agent / taxi driver / hotelier, Peter Capaldi as the bungling company trainee and Jenny Seagrove who prefers being underwater to life on land, along with all the various yokels and locals that give this film its very unique charm. And the plot twist? A fabulously subtle one-liner that gives the whole thing away. But of course, one cannot talk about this movie without mentioning the soundtrack. Many years ago I felt compelled to watch this movie because (being a big Dire Straits fan at the time) i had the soundtrack and was instantly hooked. Mark Knopfler does sterling work in adding musical flavour to the film. Lazy acoustic guitars match perfectly the breath-taking scenary that the director, Bill Forsyth, has captured of the Scottish Highlands. Overall, I would have no hesitation in recommending this film to people. Every recommendation I've made has been met with the same response: a gem of a movie that simply cannot be ignored. Local Hero will be my own personal number one for ever!
Cassandra Maples
Super Reviewer
Local Hero Quotes
| | |
| --- | --- |
| Maclntyre: | Give me a 42 yesr old whisky, Roddy. |
| Roddy: | We've none of that tonight Mr. Mac. |
| Maclntyre: | Well give me four eight-year olds and a ten-year old. |
| Roddy: | Aye, that adds up. |
| | |
| --- | --- |
| Maclntyre: | We're in the way of acquiring some real estate in the area. |
| Rev. Macpherson: | You want to buy my church? |
| Maclntyre: | Well, not as a going concern. |
| | |
| --- | --- |
| Gordon Urquhart: | Christman will be earlie this year.. |
| Stella: | So what do you want for a Christmas? |
| Gordon Urquhart: | We can get a new mattress.. |