Locked Down
(2010)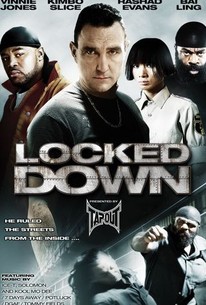 AUDIENCE SCORE
Critic Consensus: No consensus yet.
Movie Info
Danny, a respected cop, is setup after an investigation goes wrong. While laying low in his new jail cell, Danny is forced to get involved in the inmates underground cage fighting circuit. With the help of Irving, a former mixed martial arts champion, Danny devises a scheme to bring justice and innocence to his family's name, if he can get out of the cage alive.
Critic Reviews for Locked Down
There are no critic reviews yet for Locked Down. Keep checking Rotten Tomatoes for updates!
Audience Reviews for Locked Down
Not a bad prison action film but I like Undisputed 2 the best. Vinnie Jones is good as he stole every scene he was in and he's still a bad-ass. The MMA fighters were intense and provided a fine performance than I expected. As far as the fights, they have all the slow motion and quick cuts you might expect, as well as the choreographed pulled punches, but at least they seem to be trying.
Dean McKenna
Super Reviewer
½
"GOOD TO BE KING, BABY!"
A well respected police officer named Danny Bolan (Tony Schiena) is set up after a drug bust goes sour. Pegged as a criminal and locked up in the Blackwater Penitentiary for a crime that he didn't commit, Danny tries to play it cool but deep down inside he's worried, and rightfully so, as he's "locked down" with criminals, (many of whom are mixed martial arts - MMA experts) that he helped put away and his biggest nemesis, Anton Fargas (Vinnie Jones) has the warden, guards, and most of the cons in his pocket.
Fargas runs a cage fighting racket, prostitutes, and everything else you can think of from inside the prison's walls. Naturally, he forces Danny to fight his fellow inmates to the death in cage matches in the prison's basement. (As if trying to clear his name, wasn't hard enough.)
The warden is helpless to do anything and the tough and sexy dominatrix prison female guard (Bai Ling) is more interested in a banging Vargas than cuffing him. BTW, she is unconvincing as a prison guard enforcer (what is she, like 70 pounds?) but when called upon, she will disrobe.
Meanwhile a cutie from Internal Affairs Gwen Bower(Sarah Ann Schultz) takes an interest in Schiena's case (let's face it: the guy's in undeniably good shape and hot to boot. I am particularly curious about that tattoo he has placed strategically) and it's up to her and TV veteran Dave Fennoy who plays Danny's cellmate, Irving, a washed-up martial arts expert to get our hero out of prison before he gets killed in there. The music is amped heavily in each fight so if you are looking to test your channels with hard music and brutal fights this would be a decent flick to do that with.
Locked Down Quotes
There are no approved quotes yet for this movie.