Lola Versus
(2012)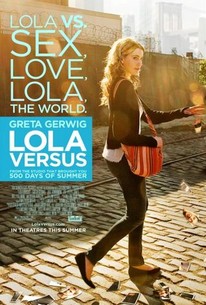 TOMATOMETER
AUDIENCE SCORE
Critic Consensus: It's fun to see Greta Gerwig mature her acting career but Lola Versus -- with its unpleasant characters and completely familiar script -- does not succeed as her first major leading role.
Movie Info
Greta Gerwig plays Lola, a 29-year-old woman dumped by her longtime boyfriend Luke (Kinnaman) just three weeks before their wedding. With the help of her close friends Henry (Linklater) and Alice (Lister-Jones), Lola embarks on aseries of desperate encounters in an attempt to find her place in the world as a single woman approaching 30. -- (C) Fox Searchlight
News & Interviews for Lola Versus
Critic Reviews for Lola Versus
Audience Reviews for Lola Versus
½
While there was lot about this movie that I liked--Greta Gerwig is always great, it's stylistically quite watchable, and its humour is just sardonic enough--overall it had nothing to say, and there was nothing novel in its approach; though quite a "real" film, it really was just the blow-by-blow of a breakup, and not a particularly interesting one at that. It's a competent movie, but unfortunately, nothing more than that.
Daniel Perry
Super Reviewer
Wasn't perfect, and a little slow in places, but likeable cast make this an enjoyable chick flick. Second viewing update 13/11/2014 I liked this so much more this time around. I have upgraded another star. I think initially I expected a rom com and when it didn't turn out to be exactly that, I felt a bit disappointed. This is a story about growing up and realizing what you need and what you don't, and learning by making mistakes. It actually does have a nice final message about finding your own strength and not relying on a man.
Nicki Marie
Super Reviewer
Hanging around in supporting roles for a while now, Gerwig has proven to be a likable presence. Her first lead role shows just how charismatic she is as few actresses could make such a self-involved character anything but repugnant. The movie is full of the usual indie cliches, the kooky friend, the whacky liberal parents, the artistic nice guy and the hunky bad boy. The irony is that Kinnaman is portrayed as the villain of the piece yet comes across as the only remotely down to earth character. He has a maturity and a self-realization that none of the others possess. Despite being on the brink of their thirties, they treat life as if they are still in their teens. The whole thing reminds me of that nineties TV show "Felicity". Gerwig and her irritatingly quirky best friend Jones seem to think the world revolves around their orgasms, or lack of. I suspect female viewers will find it hard to sympathize with Lola. After all she's an attractive and seemingly financially stable young woman who gets hit on by men on a regular basis. It's a bit like a female variation on "The Brothers MacMullen", a movie where three hunky brothers faced the earth-shattering dilemma of which of their various hot girlfriends to stick with. There are times you'll just want to give Lola a good shaking. At one point she agrees to have dinner with a guy who is clearly a couple of futons short of a Greenwich loft. She then unbelievably allows him to penetrate her without a condom. Maybe Julian Assange was a technical advisor? Lola is an idiot who gets everything she deserves and a terrible role model for young women. The movie should be retitled "Lola Versus the Audience".
The Movie Waffler
Super Reviewer
Lola Versus Quotes
| | |
| --- | --- |
| Lola: | I'm sluty but I'm a good person.. |
| Lola: | I'm slutty, but I'm a good person... |
| | |
| --- | --- |
| Lola: | Is your Match.com log in still, letmebeyourhole? |