The Loneliness of the Long Distance Runner
(1962)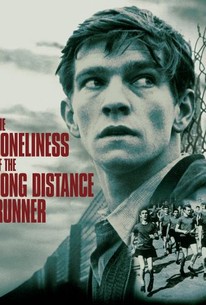 TOMATOMETER
AUDIENCE SCORE
Critic Consensus: Dry and full of angst, this British New Wave classic features potent social commentary and a star making performance by Tom Courtenay as a textbook example of the "angry young man."
The Loneliness of the Long Distance Runner Photos
Movie Info
Tom Courtenay made his film debut as Colin Smith, a lower-class British youth who is sent to a reformatory as a result of a robbery, in Tony Richardson's landmark Angry Young Man film. Mixed with Colin's reform-school experiences, spent training for a long-distance marathon against a rival institution, are his memories of the events that led up to his incarceration, including the death of his father (Peter Madden).
Critic Reviews for The Loneliness of the Long Distance Runner
Audience Reviews for The Loneliness of the Long Distance Runner
½
Another exquisite film from 1962, the year that brought you Lawrence of Arabia, To Kill a Mockingbird and King Kong vs. Godzilla. Tony Richardson knows how to make a motion picture and this is unequivocally one of his best.
Randy Tippy
Super Reviewer
½
While The Loneliness of the Long Distance Runner is a beautifully bleak story about a reform school kid and for good or ill, the choices he makes. Great direction and cinematography along with a great debut performance by Tom Courtenay are definitely the highlights of this movie, but what I really liked was the flashback-told story and buildup to a truly well-done finale. Out of all the "angry young man" movies I've seen, The Loneliness of the Long Distance Runner was the best because it actually explained WHY its protagonist was the way he was as opposed to making you endure the behavior of a raving dipshit.
Michael Gildea
Super Reviewer
Ahh Mother,why oh why oh why oh why, don't they make them like they used to? Forget your Guy Richie crime capers,'Loneliness of the long distance runner' is British cinema at its best. I can't explain why I love this film (erm so why I am I here?), whenever I try to explain the plot to friends they look perplexed as to why the film should be so good. Tom Courtenay is in his element in his portrayal as the 'loveable rogue'. Has 'Jerusalem' ever been more poignantly sung as it has here? Im not urging you to go out and purchase the film, but if you have a spare 90 odd minutes and it comes on television then watch it. Ta.
Cassandra Maples
Super Reviewer
The Loneliness of the Long Distance Runner Quotes
There are no approved quotes yet for this movie.