Lonely are the Brave
(1962)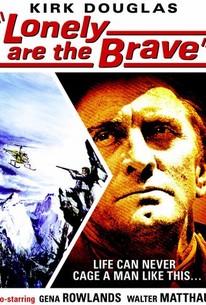 Lonely are the Brave Photos
Movie Info
David Miller helmed screenwriter Dalton Trumbo's mournful masterpiece, a hymn to rugged individualism and freedom slowly being strangled to death by voracious urban development. Kirk Douglas, a Korean War vet, is a footloose cowboy who lives most of his life under the stars, going from job to job, and not averse to cutting his way through barbed-wire fences when they get in his way. His uncompromising spirit is severely challenged when he breaks out of jail after a minor offense, and the entire county's police force tries to recapture him before he can leave the territory.
Critic Reviews for Lonely are the Brave
Audience Reviews for Lonely are the Brave
½
Observant drama of a maverick cowboy whose way of life has almost entirely disappeared. What he perceives as a good deed for a friend turns out to ultimately be a life and death struggle for him. Excellent work by a cast of familiar faces with Walter Matthau very good as a world weary sheriff and especially outstanding Kirk Douglas, in his own favorite of his performances. The ending is heart rending.
½
I'm beginning to wonder if Kirk Douglas ever gave a bad performance. If you only know him from Spartacus then you don't know what you're missing. His lesser known films, like Ace in the Hole, Champion, The Bad and the Beautiful, Paths of Glory, and Lonely are the Brave are a testament to his talent and his enormous contributions to the art of movie making.
Randy Tippy
Super Reviewer
½
Lonely are the Brave is an underrated classic that never seemed to get is due. A mostly great story (I did nod off a couple times but to the film's credit, it was past 4AM), some great acting (this movie--along with Ace in the Hole--is a monument to my underappreciation of Kirk Douglas), some fine direction and some d a m n fine cinematography make for a memorable moviegoing experience. This is a sort of upbeat movie for a movie about such a doomed character and Douglas plays John (Jack for short) Burns with an almost naive optimism in a way that's hopeful but almost jarring at the same time. The supporting performances (particularly Walter Matthau) were great, but despite Lonely are the Brave (original title of The Last Cowboy is much more appropriate) being made at the right time in history, it was made kind of too early in cinematic history for its own good. File between Easy Rider precursors and High Sierra with a dash of Hud.
Michael Gildea
Super Reviewer
Lonely are the Brave Quotes
| | |
| --- | --- |
| Jack Burns: | I hate to lose those back teeth |
| Jack Burns: | I hate to lose those back teeth. |
| | |
| --- | --- |
| Jack Burns: | there are some things you just don't call a man |
| Jack Burns: | There are some things you just don't call a man. |