Lonely Street
(2008)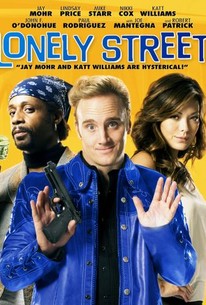 AUDIENCE SCORE
Critic Consensus: No consensus yet.
Movie Info
A notoriously gullible detective becomes the number one suspect in the murder of a tabloid reporter after accepting the task of protecting a once-famous celebrity who faked his death to escape the public eye in director Peter Ettinger's quirky adaptation of Steve Brewer's popular series of novels. The grandson of the only known fatality brought on by the 1939 radio broadcast of War of the Worlds, Bubba Mabry (Jay Mohr) comes from a lone line of painfully gullible descendents - and he's determined not to live down to the family reputation. Operating from the seedy confines of a criminal-infested Route 66 Motor Inn, Bubba finds that few of Albuquerque's skeptical locals are willing to enlist the aid of a detective of such credulous origins. When a man named J.G. (Mike Star) shows up covered in gold jewelry and approaches Bubba about protecting a recently-arrived celebrity from an overzealous fan, the struggling detective sees his latest mission is an easy way to make a quick buck. Upon discovering that his latest client is none other than the Elvis Presley, and that the "fan" is actually a tabloid reporter looking to break the story that The King is still around, however, the once-simple case begins to grow increasingly complex. As if things weren't strange enough already, the body of the reporter has been discovered dead in a motel room and Elvis and J.G. have skipped town, leaving Bubba the prime suspect in the strange murder. Now, in order to crack the case and stay out of prison, Bubba is going to have to stay one-step ahead of tireless female reporters Felicia Quattlebaum (Lindsay Price) and Bambi Gamble (Nikki Cox) as he seeks out a suspicious local concert promoter and get to the source of a lucrative blackmail scheme aimed at blowing the lid off of The King's long-running ruse.
Critic Reviews for Lonely Street
All Critics (1) | Fresh (1) | Rotten (0)
This sub-Elmore Leonard comedy/murder mystery is redeemed by Robert Patrick's dignified, respectful interpretation of the 70-something Elvis as a man who's given up drugs and fried foods for wheat grass and Tai Chi.
Audience Reviews for Lonely Street
A bumbling PI Bubba Mabry (Jay Mohr) in New Mexico will take any assignment to pay the rent, so when he is offered some serious cash to protect a mystery client from an sleazy tabloid reporter, Bubba thinks he's got it made...but he gets more than he bargained for when he discovers his client is Elvis, aka "Mr. Aaron" (Robert Patrick) who has faked his death and is planning a comeback. But the case takes a wild twist when the reporter winds up dead in a motel room and he becomes the number one suspect after Elvis and the man who hired him skip town.
Lonely Street Quotes
There are no approved quotes yet for this movie.