The Long Kiss Goodnight
(1996)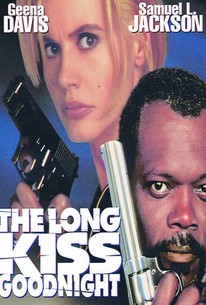 TOMATOMETER
AUDIENCE SCORE
Critic Consensus: Smart, sharp-witted, and fueled by enjoyably over-the-top action, The Long Kiss Goodnight makes up in impact what it lacks in consistent aim.
The Long Kiss Goodnight Photos
Movie Info
The comfortably drab life of a working mom becomes a nightmare when she finds herself pursued by an assassin who seems to know more about her cloudy past than she does. Frightened by the attack and by some disturbing memories that have resurfaced, she seeks assistance from a private detective.
Critic Reviews for The Long Kiss Goodnight
Audience Reviews for The Long Kiss Goodnight
This is an excellent action movie, underrated in my opinion. Geena Davis shines in the dual roles of amnesia-victim schoolteacher and CIA assassin. It's unusual for an action film to have a female lead, not terribly successful prior to the Hunger Games films. Davis, though well-known for her Thelma and Louise and A League of their Own roles, is surprisingly adept at playing the dual roles. I thought her dialogue as "Charlie" overdid it though. Samuel L. Jackson is great as well, very reminiscent of his Die Hard 3 role. In fact, the whole movie reminds me a lot of Die Hard 3. Villain Craig Bierko is good too, in a wild-eyed amoral evil sort of way. The film's climax at Niagara Falls reminds me of several Hitchcock movies, so while it isn't too original-why not copy the best? All of this: amnesia, wise-cracking sidekick, diabolical villains, and government conspiracy have been done before, but that really doesn't matter. Like the Die Hard series or an Arnold Schwarzenegger movie, it's a fun ride.
Clintus Maximus
Super Reviewer
½
A VERY 90's action-thriller that manages to be enjoyable against all odds. The plot can be summed up as a more ridiculous version of "The Bourne Identity" and Geena Davis is rarely convincing as a tough-as-nails assassin (especially when she has to switch personalities), but her explosive chemistry with co-star Samuel L. Jackson (who has some hilariously quotable lines) keeps the enterprise afloat. Plus you have screenwriter Shane Black (Lethal Weapons, Kiss Kiss Bang Bang, Iron Man 3) writing a slew of great one-liners that truly elevates this action-clunker into delightful camp. Delivers enough cool action, grin-inducing one-liners, and good acting to not be too taxing on the brain cells.
Christopher Heim
Super Reviewer
½
A serviceable if forgettable pre-Bourne film concerning a former CIA agent (Geena Davis) who suffers from amnesia, and how her memory is jarred as to who she is after an attempt is made on her life. While having some horrendously awful dialogue that makes this film undeniable campy (whether this is purposeful or not is hard to determine), it remains a mostly fun ride for the most of it. It's impossible to really call it a good movie since it's really bad in some aspects but ultimately entertaining, which is its overall goal in the end. Davis is solid, as is Samuel L. Jackson as her wingman in trying to dispose of those after her.
Dan Schultz
Super Reviewer
The Long Kiss Goodnight Quotes
| | |
| --- | --- |
| Samantha Caine/Charly Baltimore: | Are you always this stupid or did you take lessons? |
| Mitch Hennessey: | No!! I took lessons |
| | |
| --- | --- |
| Samantha Caine (Charly): | You're gonna die screaming. |
| | |
| --- | --- |
| Samantha Caine (Charly): | Hello, Raymond. Now what have we learned about the dangers of smoking? |
| | |
| --- | --- |
| Samantha Caine (Charly): | I'm saving myself until I get raped. |