The Long, Long Trailer
(1954)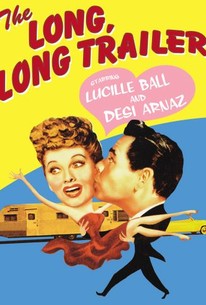 The Long, Long Trailer Photos
Movie Info
At the height of their TV fame, Lucille Ball and Desi Arnaz were contracted by MGM to make two theatrical films. The first of these, The Long, Long Trailer, stars Lucy and Desi as an upwardly mobile couple who decide to buy a trailer so they can live together while his job takes him around the country. Thanks to their naivete in such matters, they end up with a huge, bulky RV that costs five times what they planned. Their "seeing America" trip turns out to be a slapstick disaster, topped by Lucy's foolish decision to hide a heavy rock collection in the trailer; as Desi tries to maneuver a treacherous mountain road, the weighted-down home-on-wheels nearly loses its balance and almost tumbles off a cliff. The story is told in flashback, as Desi 'splains the breakup of his marriage to a motel court manager. Happily, Lucy shows up, goes "Waaaaah" a little, and all is forgiven. Despite the fact that audiences were getting Ball and Arnaz for free each week on television, The Long, Long Trailer was a big hit at the box-office. The film was adapted by Albert Hackett and Frances Goodrich from a novel by Clinton Twiss, with uncredited assistance from the I Love Lucy writing staff.
Critic Reviews for The Long, Long Trailer
Audience Reviews for The Long, Long Trailer
½
This movie is funny for the most part, but some of the jokes (like the title suggests) go too long, so they're not that funny. The story is also predictable, but it's cool to see a movie with Lucy and Ricky.
As a huge "I Love Lucy" fan, I found that this movie didn't live up to their chemistry in the show. It was funny and a cute movie, but in comparison, the show is hard to beat!
Sarah Prisbylla
Super Reviewer
The Long, Long Trailer Quotes
There are no approved quotes yet for this movie.