Long Shot
(2019)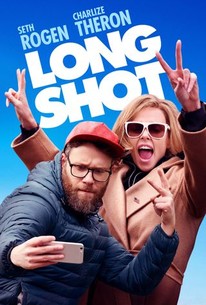 TOMATOMETER
AUDIENCE SCORE
Critic Consensus: A sharp and deceptively layered comedy that's further fueled by the odd couple chemistry of its leads, this Long Shot largely hits its marks.
Movie Info
Fred Flarsky (Seth Rogen) is a gifted and free-spirited journalist with an affinity for trouble. Charlotte Field (Charlize Theron) is one of the most influential women in the world. Smart, sophisticated, and accomplished, she's a powerhouse diplomat with a talent for... well, mostly everything. The two have nothing in common, except that she was his babysitter and childhood crush. When Fred unexpectedly reconnects with Charlotte, he charms her with his self-deprecating humor and his memories of her youthful idealism. As she prepares to make a run for the Presidency, Charlotte impulsively hires Fred as her speechwriter, much to the dismay of her trusted advisors. A fish out of water on Charlotte's elite team, Fred is unprepared for her glamorous lifestyle in the limelight. However, sparks fly as their unmistakable chemistry leads to a round-the-world romance and a series of unexpected and dangerous incidents.
News & Interviews for Long Shot
Critic Reviews for Long Shot
Audience Reviews for Long Shot
Five stars for Theron minus two stars for obnoxious Rogen and his jizzed beard. For the most part mildly entertaining but way too many f bombs for my taste. Liked JD Raphael too. (5-11-19)
Long Shot makes great use of Charlize Theron's surprisingly impressive comedic chops and the effortless chemistry with Seth Rogen to develop a solid rom-com with just enough laughs and just enough charm to keep you entertained all throughout. 4.1/5
Eugene Bernabe
Super Reviewer
ecretary of State Charlotte Field (Charlize Theron) is preparing for the moment she feels her whole life has been leading up to: a presidential run. the current president (Bob Odenkirk) has decided not to run for a second term and wants to endorse her. Charlotte and her team of dogged, loyal assistants (June Diane Raphael, Ravi Patel) are sifting through ways to improve her negatives as a candidate, and that's where Frank Flarsky (Seth Rogen) comes in. He's an activist journalist that has just been fired and he also happens to personally know Charlotte; she was his babysitter. He comes aboard her campaign with the condition that she really fights for what's important and not cave to the powerful lobbies and interest groups. He rewrites her speeches and the two of them grow closer together, bonding over their past and a possible future, not just as president but as boyfriend-girlfriend. They must keep their feelings a secret for the time being. If the press found out it might kill her candidacy before it ever really began. The film's biggest strength is the emphasis with the leading characters and the crackling chemistry between Rogen and Theron. It's a fairly familiar dynamic between the more buttoned-up personality learning to cut loose and the more wild and impulsive personality learning a degree of self-restraint and responsibility. And to be fair Long Shot does pull from this familiar foundation for a starting point with its odd couple dynamic. However, it goes further by making their differences more attuned to politics and compromise. Fred is unwilling to back down for the things he knows are right and would rather have nothing than a watered-down version of the important issue he had been fighting for. Charlotte is more the political animal and used to working with others, including scoundrels and morons, in order to affect change. She's about incremental, pragmatic change for the greater good and he's about ideological purity as a moral imperative. This isn't just a small character quick either; it's a defining conflict between both characters and a subject that gets further examination as Charlotte confronts the realities of running for president and the many compromises of self and vision may or may not be needed. Rogen and Theron are a blast together and have a fun rhythm they play off each other for unexpected comedy beats. His mellow vibes and good-natured joviality, as well as general awkwardness around people in power, are a nice fit with her sterner self. The best parts of the movie are just watching both of these actors enjoy their company. I won't say that the romantic spark became overly apparent but what was undeniable was how well they paired as an onscreen buddy duo. With each new movie and every different role, Theron proves she's one of the best actors of her generation. She can kick your ass, she can make you cry, she can win your heart, she can make you bust a gut. In short, Charlize Theron can do anything. She has several disarmingly funny moments, like when she's high on ecstasy and pulled into an international crisis and has to maintain her cool. Rogen could easily fall back on his ease playing the oafish, insecure, crass characters of his past, but he does a fine job imbuing his charm, energy, and authenticity with Frank. Rogen is an anxious and generous scene partner who typically elevates his costars, and he and Theron as so good together that it sells their romance even better than the writing. Thankfully, Long Shot is consistently funny and bases much of its humor on the characters and their needs and developments. The movie isn't just a retread of the incredulous fantasy of some ugly dude successfully romancing a beautiful woman. We've already had this dynamic explored in another Rogen comedy, 2007's Knocked Up (in another universe where Katherine Heigl's career didn't stall, I could have seen Long Shot serving as an unofficial reunion for her and Rogen). There are jokes to be had about the unbelievable nature of this central romance and Rogen's overall appearance, and that's expected. What made me happier was that these wisecracks served a purpose to highlight how professionally damaging this potential relationship could be for Charlotte's chance of winning office. They didn't just feel like gratuitous put-downs. The joke emphasis is heavily tilted in favor of our two leads but there are nice moments with the supporting cast, like Raphael's constant passive-aggressive comments, Bob Odenkirk's buffoonish sense of betrayal with TV being turned against him, Randall Park's frankness, and Skarsgard's awkward and obsequious flirting. I don't think the filmmakers fully knew what to do with O'Shea Jackson Jr. and provide some last-minute character shading that felt clumsy. Long Shot follows the Judd Apatow rom-com formula closely and demonstrates that if you get funny, talented people together, provide them solid characterization and realistic conflicts, you can produce a winning romantic comedy that matters. Nate's Grade: B
Nate Zoebl
Super Reviewer
Long Shot Quotes
There are no approved quotes yet for this movie.