Long Time Dead
(2003)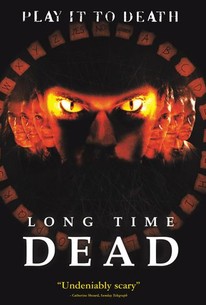 Movie Info
For his debut feature film, writer/director Marcus Adams helmed this independent occult horror flick set in the U.K. Long Time Dead tells the story of a group of college students who find themselves playing with a homemade Ouija board late one night. Not taking the game seriously, they unwittingly conjure up a demon that promises to kill them all one by one. Starring Lukas Haas, Joe Absolom, and Lara Belmont, Long Time Dead screened in 2002 at Germany's Munchen Fantasy Filmfest and The Netherlands' Fantastic Film Festival.
Critic Reviews for Long Time Dead
Audience Reviews for Long Time Dead
Horror movies like this one really drive me crazy, because it sounds good, the previews are great, and when you sit down to watch it you find that the characters are so unbelievably stupid, that the film has no credibility what-so-ever. What happens when eight friends at a party get tired of drinking? Just like anyone else, they wind up going into a store room and using a Ouija board to contact the dead. In their ignorance, they forget to close the portal to the other side, and a demon escapes intent on hunting them all down. Las Vegas's Marsha Thomason stars and pretends to be some kind of spiritual expert, when in reality she doesn't know shit. She is this whiny, annoying, know-it-all who I couldn't wait to see get her head chopped off. The rest of the cast isn't much better, as most of them just blindly follow her lead. To avoid this demon's rage, what do they all decide to do? Stick together in an old house, a good idea, but of course they can't stay together in a room forever, and that's when the demon starts picking them off one by one, in textbook slasher fashion. When you have a ridiculous story, combined with no background information, and a cast of characters that makes the cast of Duck Dynasty seem smart, what you get is a film that is beyond terrible. If there was some humor or even a break from the main story, maybe parts of Long Time Dead wouldn't have been so bad, but this film is pure garbage from the drunken night out to the bloody end.
Todd Smith
Super Reviewer
Not the worst horror certainly not the best! Music built up the tension but often fizzled out at the end!
Film Crazy
Super Reviewer
½
Poor attempt at a slasher film. However I have seen worse.
Long Time Dead Quotes
There are no approved quotes yet for this movie.