The Longshots
(2008)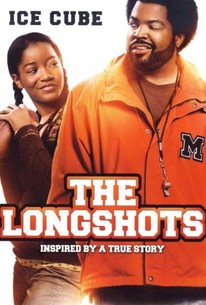 TOMATOMETER
AUDIENCE SCORE
Critic Consensus: The Longshots means well, but it's a largely formulaic affair, rarely deviating from the inspirational sports movie playbook.
Movie Info
Former Limp Bizkit frontman Fred Durst directs Ice Cube and Keke Palmer in this battle-of-the-sexes sports comedy about a former high-school football star who coaches his niece to become the first-ever girl quarterback in the history of Pop Warner football. Based on a true story, The Longshots opens in the struggling American town of Minden, IL. The Minden Browns used to be one of the strongest teams in the Pop Warner league, but lately things have taken a turn for the worst. Recognizing that his old team needs some fresh blood in order to make a comeback, a former player (Cube) trains his 11-year-old niece, Jasmine (Palmer), to throw the ball like a true gridiron giant. While the powers that be scoff at the idea of a female quarterback, they soon begin to sing a different tune as Jasmine leads the Browns to the championships and an invigorating shot at redemption. ~ Jason Buchanan, Rovi
Critic Reviews for The Longshots
Audience Reviews for The Longshots
The Longshots is a predictable but enjoyable film about a young girl who just wants to blend in. She's a bit awkward and hides behind her books and is pretty much a loner. She would rather be left alone and seems pretty depressed about her father abandoning her. Her mother Claire works hard long hours and enlists her daughters fathers brother to look after Jasmine while she works. He refuses at first, but eventually agrees. He's not happy about the situation and she's not all that happy about the arrangement either. Curtis finds Jasmine to be rude, distant, and a bit weird since she ignores him behind her books. She doesn't care for him all that much either. She rags on him about his clothes and tells him a few times that he smells. Eventually they find a common interest, Football. Over the sport the two become very close and start to care a lot about each other. I am always more interested in the relationships between the characters. I enjoyed watching the relationship between the uncle and niece build up from being cold and distant to loving like a father and daughter relationship. Of course there was football in the middle of all that. Curtis helps Jasmine come out her shell by teaching her how to play football and by encouraging her to put herself out there. In turn she helped him peel off all the layers he had been hiding behind as well and become more than the smelly man who drinks beer out of a bag. It's a cute charming film. One the family could enjoy.
♥˩ƳИИ ƜѲѲƉƧ♥
Super Reviewer
This story behind this movie was OK. I didn't think Keke Palmer played the role tough enough to play an 11 year old Pop Warner football player. Even for 11 year olds, it is a bruising game. But realism aside, it is an uplifting story.
Another remarkable true story on American football, but this film is a heart-warming and touching family-friendly, and similarly funny like Hardball. What an unbelievable and fabulous story of the first girl joined in football with boys as a new quarterback with assist from her uncle, an ex-forlorn high school footballer. Ice Cube does an excellent performance as an uncle (a great father-figure) of the first girl quarterback in Pop Warner football history.
Dean McKenna
Super Reviewer
The Longshots Quotes
There are no approved quotes yet for this movie.