Looking for Comedy in the Muslim World
(2006)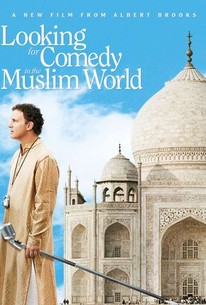 Looking for Comedy in the Muslim World Photos
Movie Info
Comic and filmmaker Albert Brooks serves his country while struggling to get some laughs in this offbeat satiric comedy. Brooks plays himself, a comedic filmmaker whose most recent success was providing the voice of a fish for an animated feature and who has just been passed by as director for a remake of Harvey. As Brooks wonders what's going to happen next with his career, his wife (Amy Ryan), and his daughter, he's approached by government representatives who want him for a special assignment. The State Department, eager to better understand the cultural gap between the United States and the Middle East, have been directed by the president to make a study of what makes Muslims laugh. Brooks is asked to fly to India and Pakistan and bring back a 500-page report on Muslim humor; told the Medal of Freedom may be his if he comes through, Brooks accepts. With a pair of State Department officials in tow, Stuart (John Carroll Lynch) and Mark (Jon Tenney), and some help from a local assistant, Maya (Sheetal Sheth), Brooks sets out to find the funny bone of India's and Pakistan's Muslim communities, though it doesn't take long to find out what they don't find funny -- his standup act. Looking for Comedy in the Muslim World was originally set for release in the United States by Sony Pictures Classics, but when they became nervous over the film's title, they dropped the project and it was picked up for distribution by Warner Independent Pictures.
News & Interviews for Looking for Comedy in the Muslim World
Critic Reviews for Looking for Comedy in the Muslim World
Audience Reviews for Looking for Comedy in the Muslim World
½
An interesting movie. Quite good.
Albert Brooks is one of those actor-writer-directors who definitely hits and misses. Like Lost in America, this movie is mostly a hit. I laughed very hard for periods of time in this pseudo-documentary about Brooks' US government sponsored search to determine, in a 500-page report : ), what constitutes "funny" in India and Pakistan. I loved sequences like the job interview and, especially, Brooks' stand-up performance in India where he redefines impromptu comedy -- and revives one of his very early real-life ventriloquist routines.
More than anything in this, I was overjoyed to discover the acting and comedic talents of American-born Sheetal Sheth. She is definitely worth the watch, even if you've been disappointed by some of Brooks' work in years gone by.
Lanning : )
Super Reviewer
Brooks fails to bridge that crucial sar-chasm that transcends any language barrier.
William Goss
Super Reviewer
Looking for Comedy in the Muslim World Quotes
There are no approved quotes yet for this movie.