Looking for Grace
(2015)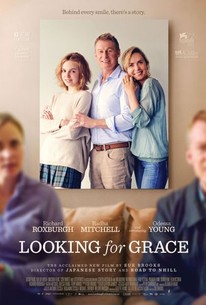 Movie Info
The long-awaited new film from Sue Brooks, the acclaimed and multi award-winning director of Japanese Story and Road To Nhill, LOOKING FOR GRACE is an intimate, funny and profoundly moving story about the complexities of family life. When rebellious 16-year-old Grace (rising star Odessa Young) takes off, her exasperated mum and dad (the superb Radha Mitchell and Richard Roxburgh) enlist the help of a close-to-retirement detective, and begin the long drive from Perth out to the West Australian wheatbelt to try to find her. On the journey, the two must confront the realities of their changing relationship to one another, and to their daughter. Wry, intriguing and poignant, Brooks' unflinching reflection on the disruptive effects of both adolescence and middle age boasts her trademark sense of character, acerbic humour and eye for the hypnotic rhythms of Australia's regional landscapes. Innovatively structured to incrementally reveal each character's journey - and secrets - from numerous vantage points, LOOKING FOR GRACE is ultimately a beautiful, bold and unmistakably Australian story that reminds us that life is precious, and can change in the blink of an eye.
Critic Reviews for Looking for Grace
Audience Reviews for Looking for Grace
The opening scenes with teenage Grace running away with a girlfriend worked best for me. I've travelled across Australia on a bus many years ago and the scenes were relatable. Also, Grace's relationship with a young guy they meet on there is handled truthfully. Once the older cast's stories are added on, it loses ground a little, although they are also honestly told and relatable. I am not sure anyone really learns anything here, though. Maybe it's making a point that so called perfect lives aren't what they seem. The ending scene with the mother was down played and drastic.
Nicki Marie
Super Reviewer
Looking for Grace Quotes
There are no approved quotes yet for this movie.