Looking for Mr. Goodbar
(1977)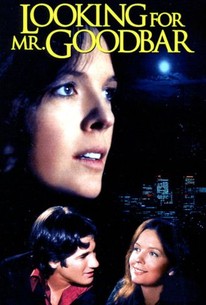 TOMATOMETER
AUDIENCE SCORE
Critic Consensus: Diane Keaton gives an absolutely fearless performance in a sexual thriller whose ending will leave audiences trembling.
Looking for Mr. Goodbar Photos
Movie Info
Seeking romance and an escape from her repressive home life, a teacher begins to haunt singles bars, participating in a number of unsatisfying affairs. This drama, based on a true story, culminates in tragedy when the teacher's quest leads to her victimization by a psychotic murderer.
Critic Reviews for Looking for Mr. Goodbar
Audience Reviews for Looking for Mr. Goodbar
A provocative edgy drama based on the best-selling novel by Judith Rossner, about a repressed young teacher named Theresa Dunn, brilliantly played by Diane Keaton in a powerful and emotionally complex performance. whose initially innocent search to find a man of her dreams escalates into promiscuous and dangerous encounters with men she meets in bars, she begins to wallow endlessly in her new "liberated" sexual lifestyle, the thrill of the evening trysts, which eventually involves drugs and violence has her life spinning out of control with this self-destructive behavior. Diane Keaton wonderfully balances the dual aspect of her character's life, by day a outwardly caring teacher to deaf children living a banal existence, and by night a drug-fueled bar tramp, this film is a indictment against the sexual attitudes of the 70s, where disco was the music and coke and weed was the new drugs of choice, the sexual revolution was at it's peak here, before herpes and AIDS made their dreaded entrance. This is one of the few and rare instances where the film is better than the book, thanks to the brilliant screenplay and direction of Richard Brooks. It is difficult to watch at times but this film is pure cinema at it's highest level. Superlative performances from Tuesday Weld, Richard Kiley, William Atherton, Priscilla Pointer, Tom Berenger and Richard Gere in a memorable turn as a hyperactive hustler. Shocking then it is thought-provoking now, and builds to a unforgettable and shattering climax. Highly Recommended.
Danny Rovira
Super Reviewer
Diane Keaton's performance is stunning. And I am fairly certain that I have dated Richard Gere's character. However, I was a bit disappointed that the movie veered away from the book. It is a more interesting story for Theresa to have a self-destructive bent. She picks up guys because she knows they'll be trouble. In the movie she is just a hedonist.
½
Former good girl Theresa(Diane Keaton) moves out of her parent''s home to forge a life of her own. During the day she teaches deaf children, but at night she turns into into a promiscuous drug using, party-girl frequenting singles bars. Theresa goes to one last bar and brings home one last stranger. Richard Brooks's LFMG is a straight fwd story with a fascinating character played by Keaton and good supporting roles by Richard Gere and Tuesday Weld and Tom Beranger. Brooks is quite good bringing the 70's vibe with disco music and dark drinking bars and the love Keaton has for deaf children.
Looking for Mr. Goodbar Quotes