Looney Tunes: Back in Action
(2003)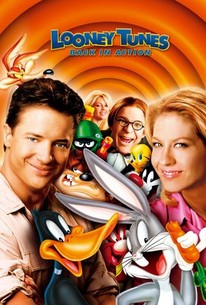 TOMATOMETER
AUDIENCE SCORE
Critic Consensus: The plot is a nonsensical, hyperactive jumble and the gags are relatively uninspired compared to the classic Looney Tunes cartoons.
Looney Tunes: Back in Action Photos
Movie Info
In a land where cartoon characters and flesh-and-blood people work side by side, one little black duck lands in a big pot of trouble in this comedy, which brings the beloved Looney Tunes characters into the real world. Daffy Duck (voice of Joe Alaskey) has grown tired of his status as Warner Bros.' leading avian second fiddle and demands that if he can't be given equal billing with his rival Bugs Bunny (also voiced by Alaskey), he wants to be released from his contract. Kate Houghton (Jenna Elfman), Warners' vice president in charge of comedy, is way ahead of Daffy and orders studio stuntman D.J. Drake (Brendan Fraser) to kick the duck off the studio lot. D.J. soon discovers getting rid of Daffy is no easy task, and the duck is in tow when Drake makes a startling discovery -- his father Damien Drake (Timothy Dalton), a movie star best know for playing ultra-suave secret agents, really is a secret agent, and he's been kidnapped by Mr. Chairman (Steve Martin), the evil leader of the monolithic Acme Corporation. Damien knows the secret hiding place of the priceless Blue Monkey Diamond and Mr. Chairman will stop at nothing to get it, so D.J. and Daffy set out to rescue Damien and save the diamond, one step behind Acme's musclemen and one step ahead of Kate and Bugs, who now realize how important Daffy is to the Looney Tunes franchise. Looney Tunes: Back in Action also stars Heather Locklear as a lounge singer working for Yosemite Sam (voice of Steve Babiar), Joan Cusack, John Cleese, Stan Freberg, and Roger Corman. ~ Mark Deming, Rovi
Critic Reviews for Looney Tunes: Back in Action
Audience Reviews for Looney Tunes: Back in Action
Not quite hot on the heels of 'Space Jam' but clearly whipped out to try and garner as much success as said film, how could they fail?. Well for a start the plot is a jumbled mess that tries its hand at various movie genres and not quite deciding which to stick with. All the Looney Tunes stars are crammed into the film given various roles which just feels forced and unnecessary. Its the usual thing of Bugs and Daffy working together (well you know they don't get on right?) and teaming up with the fresh faced Fraser to thwart evil Steve Martin who is possibly the worst thing in the entire film, talk about over the top-over acting and not being funny at the same time!. This film feels so phony, such a product placement hack of a flick. The action moves from place to place including a wide range of gimmicks just to cover all the bases and try to appeal to everyone. There are sequences in Vegas which end up in a car chase which isn't too bad but that all leads to the inevitable Bond spoofing ugh!. There is an Area 51 sequence which of course leads to some familiar sci-fi creations popping up. Lets just say the film spoofs/homages almost every flippin' film they can muster at various points throughout the films run time. I guess the casting of Dalton kinda gives the game away as what to expect though doesn't it. Oh Dalton, oh geez I guess its a Bond spoof again everyone, how very original. I realise that's the whole point of the film, its a full length parody made up of various little moments or sketches where each character has a spot in the light to shine. A film within a film, breaking the fourth wall, cute little in-jokes and product placements etc...yeah I know the drill, problem is its just really lame. The plot just feels totally pointless, you don't really need the plot, just call it a montage movie. One thing I must give praise too is the sharp animation of all the classic characters plus their integration into the live action. Its clearly much slicker than 'Space Jam' and the live actors are impressively responsive to their cartoon counterparts. Despite every gag being predictable and unoriginal the whole thing does look really glossy and polished. But seriously! I mean come on...we even get Indiana Jones jungles and lava flows plus outer space action towards the end! just stick em all in there, something we appeal to someone!. The funny thing is Fraser is perfectly cast for this type of film, the guy the looks and acts like a cartoon, that's why he's in so many kiddie flicks. Not a bad thing per say...I'm just pointing it out. I think kids will enjoy the film for its bright colourful visuals and the inclusion of all their favourite characters. Adults may get a slight kick from some of the parodies and reasonable gags from time to time (much like the brief 'Pulp Fiction' parody in 'Space Jam'). Overall this is such a clusterfuck of ideas it just feels like a bombardment from many sources, but instead of narrowing it down they just use everything, throw it all into the pot, give it a good stir and see what happens. The other issue is simply these classic toons will never be the same again without good old Mel Blanc I'm afraid. Even 'Space Jam' suffered from the same problem, the characters just don't have that same bite, they lost their satirical edge when Blanc died sadly and that doesn't appear to have been brought back. I think the characters are slightly watered down these days, playing it safe, maybe its just me. I honesty think they chucked so many settings and movie concepts into this simply for it to appeal to everyone. I think the term recycled sums this up pretty well, a tribute to the WB Looney tunes by merely recycling all their classic goofiness. Question is did we really need it as its nowhere near as good. There's something in there for everyone whether you like space, jungles, Vegas, Bond or even a bit of culture in Paris, its all here folks!.
Phil Hubbs
Super Reviewer
½
A very entertaining tribute to classic Looney Tunes cartoons and a very diffeent take on them too of which they are all just animated actors. The effects are well done and although the toons steal the show it's still a really fun ride and will bring a smile to everyone's faces big and small.
Directors Cat
Super Reviewer
The bad plot and the excited, but terrible screenplay, don't made this movie a good thing to the filmography of Looney Tunes. With the nonsense gags based in old cartoons, Larry Doyle and Joe Dante does another damm motion picture that gonna make the audience think twice, before watch the next Looney Tunes's film. And question himself if the next movie of Bugs Bunny and your gang, be better that the last. Other hand, the better is the Tunes never more back in action... in cinema. Rotten.
Lucas Martins
Super Reviewer
Looney Tunes: Back in Action Quotes
| | |
| --- | --- |
| Dusty Tails: | If you wanna be a good boy, get yourself a bad girl. |
| | |
| --- | --- |
| Acme VP Nitpicking: | What about the duck? |
| Mr. Chairman: | Extra crispy. (Bum bum bum) |
| Mr. Chairman: | Extra crispy. [bum bum bum] |
| | |
| --- | --- |
| Daffy Duck: | HA! you never catch the rabbit being this heroic! |
| Bugs Bunny: | (Pops up on a seat next to Daffy) Eh Whats up Doc? |
| Bugs Bunny: | [pops up on a seat next to Daffy] Eh Whats up Doc? |
| Daffy Duck: | (Sighs) You're Dethspicable |