Loose Cannons
(1990)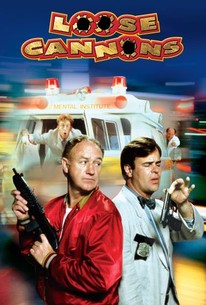 Movie Info
Loose Cannons may be a wacky buddy-cop comedy, but it starts with a chilling premise. It seems that a film is discovered that depicts the final moments of Adolf Hitler's life. The climax features young German officer Von Metz, who is seen putting Hitler to death. Von Metz (Robert Prosky) is now running for chancellor of West Germany. If this film gets out, his political career is finished, so Von Metz has arranged for the murder of anyone who has seen the film. The killings have taken place in the Washington area and Mac (Gene Hackman) and Ellis (Dan Aykroyd) are sent to investigate the crimes. Mac is a middle-aged veteran of the force, a professional who gets things done. But Ellis is a different ball of wax. Suffering from a multiple personality disorder, he has spent two years in a Benedictine monastery to recover from his problems. But he is far from cured -- as Mac discovers, whenever Ellis is confronted by violence, he blacks out and begins to assume the characters of popular culture icons like Popeye, Captain Kirk, and the Road Runner.
Critic Reviews for Loose Cannons
Audience Reviews for Loose Cannons
Looking for an interesting combination in casting? well look no further, Dan Aykroyd, Gene Hackman and Dom Deluise head this cop buddy flick. This film followed on from the popularity of the 'Lethal Weapon' franchise as did many others of the era and they are all pretty much the same. The unique carrot on a stick here is the casting really. It certainly is an interesting choice, 80's motor mouthed quirky comedy legend Aykroyd, hard assed no nonsense Hackman and farcical spoof maestro Deluise (of the Mel Brooks/Gene Wilder spoof pack) all thrown together. This is the films downfall basically, the three leads are totally incompatible and never gel. The film is your usual regular mismatched cop duo comedy/thriller with all the regular mismatched cop duo moments and sequences you would expect. Action is slow (with Deluise it has to be) and uninspiring and the attempted funny moments are just poor. Aykroyd is suppose to have a multiple personality disorder which you would think could be comedy gold...it isn't, its embarrassing to watch. Pretty much a complete failure on all aspects, Hackman just doesn't fit into this kind of lunacy and it shows. Tries to be along the same lines as 'See No Evil, Hear No Evil' with Wilder and Pryor but doesn't come close.
Phil Hubbs
Super Reviewer
Could be funniest, could be more good writing, could be fresh... but isn't.
Lucas Martins
Super Reviewer
½
Only a few funny scenes provided by Dan Aykroyd, including one in which he imitates the Road Runner, save this uneven cop comedy.
Dean McKenna
Super Reviewer
Loose Cannons Quotes
| | |
| --- | --- |
| Rachel: | '"You have strong lookin' thighs for a white man."' |
| Rachel: | You have strong lookin' thighs for a white man. |