Lord of Illusions
(1995)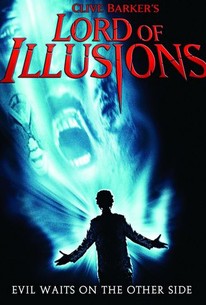 Movie Info
An ordinary private eye finds himself on a twisting, turning roller-coaster ride to hell when he enters the nightmarish world of a powerful, evil sorcerer masquerading as a sleight-of-hand magician and the murderous cultists that surround him. The shamus, Harry D'Amour, is based in New York, but all the trouble begins when he heads for Los Angeles to work on a case and finds himself involved with the worshipers who desire to reincarnate their evil master Nix, who was killed by the sorcerer Philip Swann, a former student of Nix. Swann makes his living as an illusionist whose tricks are anything but. Swann has Nix's corpse in his possession, but he refuses to divulge its whereabouts to the other angry cultists who now conspire to kill him. Philip's wife Dorthea fears for her husband and has hired D'Amour to guard him. Before Harry can help Philip, the magician ends up impaled by his own magical swords during a performance. Now Dorthea's life is endangered and D'Amour must simultaneously protect her and solve the mystery of the apparently late Nix.
News & Interviews for Lord of Illusions
Critic Reviews for Lord of Illusions
Audience Reviews for Lord of Illusions
Prophesied by Stephen King to be the new savant of horror, novelist Clive Barker doesn't laxly embark on big-screen descents. For Barker, the scariest concept is the mundane depravity of people via occult influences ala Candyman and Hellraiser. To that extent, the disciples of Nix "The Puritan" (Daniel Von Bargen) are the most frightening components as they skin human and animal carcasses in a hypnotized daze of worship. It could be contended that Lord of Illusions is his most ambitious with its emphasis on FX-augmented black magic and Phillip Marlowe film noir. With a five-o'clock shadow and Budweiser-gulping, self-loathing style, Scott Bakula is a chiseled 50's detective but he is too passive to be the grizzled hero. Barker can conjure phantasmagorical visuals that seep into the subconscious (ex. A fortune teller with scalpel acupuncture through his midsection and hourglass sand pouring through a body.). The most dastardly of which is Swan's (Kevin J. O'Connor) macerating death on stage in front of a packed auditorium from falling swords on a rotating chandelier. Bargen, in his resurrected form, is chilling with the piebald outline of an iron-maiden mask around his face and his pineal gland throbbing on his forehead. His voice is now a baritone rumble as he preaches about "wisdom from beyond the grave". Most hocus-pocus flicks err on needless gore but Barker is too thought-provoking for such a fate. He intelligently asks whether the messiahs utilized trickery for their miracles and if demonic spirits are responsible for true acts of mysticism. The special effects are not faultless. For instance, a holographic security guard and triangular origami are too artificial and rudimentary in a post-1995 world. But the gooey reanimation of Nix is a symphony of pulsating ectoplasm like Frank in Hellraiser. Mindless sycophancy is a spine-tingling area to explore and Barker really taps into the terror of a group of brainwashed lamb under the spell of a supernatural deity. In his repertoire, Lord of Illusion is Barker's operatic sorcery opus.
Cory Taylor
Super Reviewer
Clive Barker's Lords of Illusions is a slightly more developed film than his previous film, Night breed. I thought that Night breed was a decent affair, but it was nowhere near as good as his directorial debut, Hellraiser. This film is a well crafted horror tale that Barker conjures up from his brilliant, twisted imagination. The film is a well structured tale that will entertain you from start to finish. The cast do a fine job with the script and the visuals are impressive and terrifying. Clive Barker is a master of horror and he directs something truly original and worthwhile for genre fans. The cast that he directs is quite good, and there are plenty of effective performances. I really enjoyed the film, and thought it was a fine achievement for Barker, who knows exactly how to create effective terror. This is a well crafted movie that will delight die hard Clive Barker fans. The film is edge of your seat entertainment from start to finish, and with a well written script, Barker conjures up some truly intense moments that will pull you into this nightmare. Clive Barker has the talent to truly create something that will terrify you, and with Lord of Illusions, he crafts something truly intense and creepy. He is gifted in giving the viewing audience something truly memorable. Even if this isn't his best work, Lord of Illusions is a good horror film definitely worth checking out if you love Barker's work. Lords of Illusions is a horror tale that is effective, and it is only a film that can Clive Barker could have created. Everything you'd expect from him is apparent here, and he has made his best movie since his impressive 1987 directorial debut, Hellraiser.
I had such high hopes for this movie; based on a book by Clive Barker and with a good cast. I even liked the theme of real magic being resisted by one talented in the field but turned off by seeing its extreme. But this movie seems like a huge muddled narrative mess with ugly effects. Poor pacing and execution killed this movie. What a disappointment.
Emily Armstrong
Super Reviewer
Lord of Illusions Quotes
There are no approved quotes yet for this movie.