Lord of the Flies
(1989)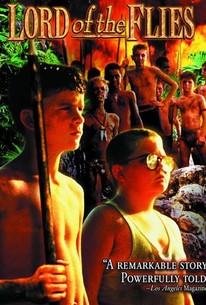 Movie Info
Harry Hook directed this second screen adaptation of William Golding's cult novel about a group of British schoolchildren who revert to savagery when marooned on a deserted island. The new adaptation replaces British school children with a group of American military cadets and instead of a shipwreck, their plane crashes into the sea. The children swim ashore onto an island and try to fend for themselves, with the only surviving adult wracked with fever and crazed with pain. As the children get the feel of the island, the group separates into two different camps: Ralph (Balthazar Getty) and his followers prefer to act civilized and want to expand their efforts toward finding a way off the island; on the other hand, Jack (Chris Furrh) and his band revert to painting their faces, carrying spears and exploiting the island for survival. When the chances for rescue become less and less likely, the two factions go to war with each other, with tragic results.
Critic Reviews for Lord of the Flies
Audience Reviews for Lord of the Flies
did not follow the book plot at all.
erika bruhns
Super Reviewer
instead of proper little english tykes this film substitutes closer-to-home american military school kids, future halliburton wannabes, but there's more that's changed as well. instead of falling into depravity because it's their nature, in our nature, like in the first film and in the book, these guys do it because their leader said so. maybe with yanks that's the relevant, resonant way to go, hmmm? didn't the jerries try that line of rationale at one point? nevertheless the dark lord is underplayed as well, and so what remains is a watered down examination of our "civilisation".
Kevin M. Williams
Super Reviewer
½
A shockingly terrible adaptation. All of the pieces might be there on screen, but nothing and I mean NOTHING that makes any sense translates onto screen. It's amazing how someone could miss all of the interesting themes. I'm pretty sure the child actors wrote the script without any understanding of the book. So it starts off with American Military Cadets, rather than prim and proper British Schoolboys. This is the first huge mistake as it completely shits on the transformation that every student goes through. Jack is reduced to a villain. We even here he was bad before getting to the island. The children don't fail at creating a society, they're all just a bunch of disgusting little pricks. Arguing at the slightest little thing. The kids also start with a grown up on the island...I can't even begin to explain how fucking stupid that is. It adds literally nothing. The fighter pilot is excised, losing the irony of Piggy praying for a sign from the adult world, only to have an adult killed in war appear. As well as Jack being the villain, Simon's just a weirdo, with every nod toward religion now gone. So what's left? A bunch of horrible children stuck on an island and acting like shits, which they were before they got to the island. Pointless, painful and frustrating.
Luke Baldock
Super Reviewer
Lord of the Flies Quotes
There are no approved quotes yet for this movie.