The Lord of the Rings
(1978)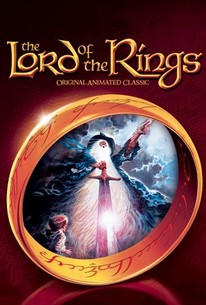 TOMATOMETER
AUDIENCE SCORE
Critic Consensus: Ralph Bakshi's valiant attempt at rendering Tolkein's magnum opus in rotoscope never lives up to the grandeur of its source material, with a compressed running time that flattens the sweeping story and experimental animation that is more bizarre than magical.
The Lord of the Rings Photos
Movie Info
Controversial animator Ralph Bakshi's literal adaptation of J.R.R. Tolkien's classic fantasy trilogy, The Lord of the Rings, is brought to the screen in a reverent, stilted way, with Bakshi forsaking his sharp-edged animated looniness for a rotoscoped dullness. Although the film's title encompasses the entire Tolkien trilogy, this longish Bakshi feature, in fact, covers only the first book, The Fellowship of the Ring, and the first half of the second, The Two Towers. Given the complexity of the original story line, this unfortunately means that only those intimately familiar with the books will be able to understand what is happening in the movie. In brief, however, an evil sorcerer from a previous era created a magical ring which enables its users to call upon its tremendous powers to rule the world, but it inevitably warps them to evil. It was believed lost, but during a resurgence of magical evil in the world, Bilbo, a simple, plain-spoken hobbit, recovers it from its hiding place. The forces of good give his nephew Frodo the choice to bear the awful burden of the ring to a place where it may be destroyed.
Critic Reviews for The Lord of the Rings
Audience Reviews for The Lord of the Rings
Bethany Murphy
Super Reviewer
Bakshi's version of Lord of the Rings, which is of course animated, is good, I enjoyed it, sometimes there are fantasy elements that can only be brought to life in the animated form. The movie follows very close to the book, and the characters look just as I expected them to. I enjoyed this version.
½
Now this is much better than the live action movies. Its done with rotoscoping and looks great. Very dark, brooding and alittle eerie, especially the orges and the landscapes. It really looks sooo good, the animation is also good for the time and combines some live action in there too which sounds odd but does work. The voice work is another main winner here, it makes the whole thing rise above your expectations and lift it out of the realms of a 'cartoon', every character is perfect and adds realism to the film, Hurt offering that real classic touch. This is how the Lord of the Rings should have been.
Phil Hubbs
Super Reviewer
The Lord of the Rings Quotes
| | |
| --- | --- |
| Gollum: | Don't hurt us! Don't let them hurt us, precious!, Cruel little hobbitses! |
| | |
| --- | --- |
| Aragorn: | And who are they going to trust? A fat innkeeper who only remembers his name because people shout it at him all day? |
| | |
| --- | --- |
| Gandalf: | Fool of a Took! Throw yourself in next time! Be quiet! |