Lords of Dogtown
(2005)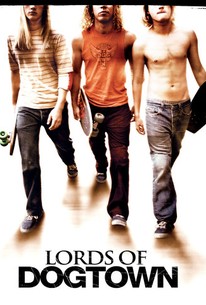 TOMATOMETER
AUDIENCE SCORE
Critic Consensus: Lords of Dogtown, while slickly made and edited, lacks the depth and entertaining value of the far superior documentary on the same subject, Dogtown and Z-Boys.
Movie Info
In the 1970s, a group of teenage surfers from a tough neighborhood known as "Dogtown" in Venice, CA, pioneered a revolutionary new style of skateboarding. Riding the waves at the Pacific Ocean Park pier, the Z-Boys, known for their aggressive style and hard street attitude, combined the death-defying moves of surfing with the art of skateboarding and became overnight sensations and local legends. With empty pools as their canvas, the Z-Boys paved the way to what is now referred to as "extreme sports," and created a lifestyle that spread infectiously to become a worldwide counterculture phenomenon. But all of this fame would take its toll on the friendships that they thought would last a lifetime, as the sport that started out as an afternoon hobby turned into big business.
News & Interviews for Lords of Dogtown
Critic Reviews for Lords of Dogtown
Audience Reviews for Lords of Dogtown
½
Skip: Yeah, this is Skip Engblom and the Zephyr Skateboard Team. Here's our entry fees. Now where's our trophies?  "They came from nothing to change everything." Lords of Dogtown is a good little movie about the Z-Boys of Venice and how they changed skating for the better and opened up the sport for the Tony Hawk's and Bob Burnquist's. If you are interested in this subject and want to see an amazing movie on the Z-Boys; watch Stacy Peralta's Dogtown and Z-Boys.  Stacy Peralta did write this movie, so you know it has to be pretty close to 100% accurate. We watch as the boys move from just kids on the streets and in the waves to where they're going to big skate competitions. All the little details about the Z-Boys is in there, but not really talked about. They changed the sport from just standing on a board and made it into the extreme sport we know. They rode with a surfing style that no one had seen before. They got low to the ground and did quick turns where they'd almost lay on the concrete. This movie also delves into the egos of some of the skaters, especially Tony Alva. You almost grow to hate him through watching this movie. Obviously, you grow to like Peralta, which probably has a little bit to do with him writing the film. The movie seemed like they tried to go a little over the top at times. The kids playing the Z-Boys at times seem like nothing more than posers because of how they talk and act. That's the biggest problem I had with the movie, but it wasn't happening the whole film. For the most part, I liked the portrayals. It could have been done better, but it was still a lot of fun watching this cultural change occur. I should just say, I love movies like these that dive into the culture aspect of these movements. That's why I love the documentary that was made not he subject. It went into detail about the whole culture of these skaters a lot more then this movie did. We saw some of it, with the Zephyr party and the weed, the alcohol, the girls, and all that. There's also a great soundtrack, maybe one of the best I've seen put together in a movie. All the songs that were included fit the movie perfectly. As much as I liked the film, I'm still slightly disappointed just because I know there's a better movie that could be made from this story. I hope somebody else comes along in the future and gives this subject another shot. Still, if you are at all interested in this subject, you should watch this film along with Peralta's documentary. It would make for a perfect double feature.
Melvin White
Super Reviewer
½
Lords of Dogtown, is present by his director with a documentary style, the skateboard world in the early 70's. Is a entretaining film, very good to skate fans.
Lucas Martins
Super Reviewer
½
Based on the true story of the legendary z-boys. Very good movie, really enjoyable and fun! The story is very primitive and intoxicating which really brings out the taste of such sweet filming. Very good acting from everyone and a superb cast! The true story of the kids who created modern skateboard culture is recreated in this drama. In the early '70s, skateboards were seen as a fad of the 1960s that had all but died out, but in a rough-and-tumble Venice, CA community known as "Dogtown," that was about to change. Tony Alva (Victor Rasuk), Stacy Peralta (John Robinson), and Jay Adams (Emile Hirsch) were three guys who liked to surf the rugged beaches around Venice and hung out at the Zephyr Surf Shop, a store run by Skip Engblom (Heath Ledger) that stocked gear for adventurous surfers and skateboarders. With the advent of new urethane wheels that connected with concrete in a way old metal and rubber wheels could not, Tony, Stacy, and Jay began exploring ways to translate radical surf style to skateboarding, and the guys invented a new way to skate inside the smooth, round surfaces of empty pools, employing vertical moves and edge flips that added a new and dramatic spin to skating. It didn't take long for word to spread about the wild new style of the Z-Boys, and they quickly became local celebrities, and later nationwide skating stars, though sudden fame took its toll on these young men. The true story of Lords of Dogtown was previously the basis of the acclaimed documentary Dogtown and Z-Boys, directed by former Z-Boy Stacy Peralta, who like Tony Alva served as a consultant on this project.
Lords of Dogtown Quotes
| | |
| --- | --- |
| Kathy Alva: | Take your boxers off. |
| Jay: | No way. |
| Tony: | What's wrong, Jayboy? Don't got no hair on your inchworm yet? |
| | |
| --- | --- |
| Skip: | Oh, nice socks, man. Nice socks. Nice socks. |
| | |
| --- | --- |
| Skip: | Yeah, hi. This isn't a library...so it's ten bucks to browse. You got ten bucks? |
| Browser: | Didn't bring any money today. |
| Skip: | Yeah, well, why'd you come into my store, then, asshole? |
| | |
| --- | --- |
| Skip: | Yeah, this is Skip Engblom and the Zephyr Skateboard Team. Here's our entry fees. Now where's our trophies? |