The Lords of Flatbush
(1974)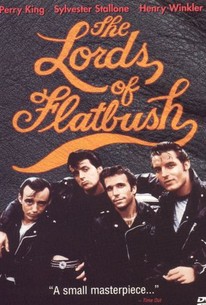 The Lords of Flatbush Photos
Movie Info
Sylvester Stallone and Henry Winkler star as members of a 1950s street gang who must face the onset of maturity and responsibility in this coming-of-age serio-comedy.
News & Interviews for The Lords of Flatbush
Critic Reviews for The Lords of Flatbush
Audience Reviews for The Lords of Flatbush
When I first read about this film I was expecting a kind of gang causing trouble learning from mistakes film, But what we got was Grease without the songs and the cheese, There's no real plot it's just about four best friends and their love lives, Pretty well acted by all the cast but nothing memorable.
Jamie Clarke
Super Reviewer
I have never heard of this film before, came across it whilst reading about Sly Stallone on IMDb and with a cast including Henry Winkler, Perry King (Han Solo auditioner for 1977 classic) and Amand Assante I knew I had to watch. In all honesty I didn't see much in the film that was entertaining or exciting, there is allot of dialog and emotion on show as a group of tough young guys in a Brooklyn gang live their lives over the course of afew weeks (I think). Nothing much really happens accept for much smooching with girls in their parents houses and a marriage at the finale, if you think of the film classic 'Diner' then your on the right track but 'Diner' is much more interesting than this, only watch if your curious to see a very young Stallone and pre-Fonz Winkler (yes this role did lead to the Fonz obviously) which is an intriguing lure.
Phil Hubbs
Super Reviewer
Not bad tale of 1950s Brooklyn 'gang' of four cool, young rebels.
Dean McKenna
Super Reviewer
The Lords of Flatbush Quotes
There are no approved quotes yet for this movie.