Lorenzo's Oil
(1992)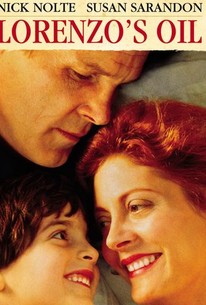 TOMATOMETER
AUDIENCE SCORE
Critic Consensus: A harrowing tribute to the heroism of parental love, Lorenzo's Oil is kept from abject misery by George Miller's sensitive direction and outstanding performances from Nick Nolte and Susan Sarandon.
Movie Info
Director George Miller's fact-based drama stars Nick Nolte and Susan Sarandon as Augusto and Michaela Odone, the parents of a boy (Zack O'Malley Greenburg) diagnosed with ALD (adrenolenkodystrophy), a rare degenerative disease with fatal results. Refusing to accept the death sentence the doctors have handed young Lorenzo, the Odones devote every ounce of their being to finding a breakthrough to battle the disease.
Critic Reviews for Lorenzo's Oil
Audience Reviews for Lorenzo's Oil
½
There's nothing more horrible than watching an innocent young child suffer in agony. In this heart-gripping drama, we follow two desperate parents (Nick Nolte and Susan Sarandon) as they struggle to find a cure for their son, who has fallen victim to a rare disease known as ALD. Fine performances by everyone in the cast, and in particular by Zack O'Malley, who does some of the best acting I've ever seen by someone of his age. You're truly enveloped by the pain that he goes through, which often makes it an uncomfortable watch. Seldom have I felt so engaged as to the outcome of a character's fate. And I can imagine it must be even more compelling to those who are parents themselves. A powerful story altogether, that despite some tendencies to drag, will leave you affected in one way or another.
½
A great true story, but it's so boring as a film. I had to watch this in a class I had once, and I just couldn't get into it, it was dull. I'd only recommend this to real die hard drama fans who love real life stories played realistically. Overall, it's pretty good, but could have been more exciting.
Emotionally harrowing film of a dedicated and persistent couple's struggle to find help for their son when he falls victim to a terminal illness. Intensely real performance by Susan Sarandon and a strong one from Nick Nolte although his accent while accurate for the character makes it difficult to understand him occasionally. Beautifully true supporting performances but it is hard to watch what Lorenzo has to go through. A shattering experience at times but worthwhile.