Lost in America
(1985)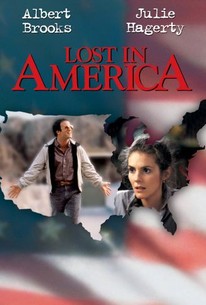 TOMATOMETER
AUDIENCE SCORE
Critic Consensus: A satire of the American fantasy of leaving it all behind, Lost in America features some of Albert Brooks' best, most consistent writing and cultural jabs.
Movie Info
Two dissatisfied yuppies leave their suburban lives behind and embark on a journey to rediscover America and themselves. This idea proves to be far more attractive in theory than actuality -- this satirical comedy follows the descent of the couple's idyllic journey as it rapidly descends into nightmarish confusion.
News & Interviews for Lost in America
Critic Reviews for Lost in America
Audience Reviews for Lost in America
½
Satirical view over suburban people, "trip to find American freedon", dreams and problems of new couples. Neurotic adventure comedy with great screenplay, Lost in America is a more realistic National Lampoon' s Vacation.
Lucas Martins
Super Reviewer
A couple abandons their life in the suburbs to head out on the open road until they lose their nest egg in Vegas. There are some very funny moments in Albert Brooks's script. I especially enjoyed some of the one-liners like "There's no one here I could quit to" and "If Liberace had children, this [cheap bridal suite with heart-shaped single beds] would be their room." But Brooks's neurotic delivery loses its charm, and there's something too aggressive about it. Contrasted to Woody Allen, who rarely seems threatening, Brooks seems too edgy, too close to dangerous, so that we can't laugh because we're too busy hoping he doesn't hurt someone. Julie Hagerty is, of course, hilarious. Her sweet voice and soft temperament make her a delightful contrast to Brooks. I also like the film's main idea. It's a satire of the yuppies' obsession with "finding oneself" on the road a la Easy Rider, which is often referenced in the film. In the voice of an employment agent, who says, "You couldn't change your life on a hundred thousand dollars a year?" Brooks needles the generation with one of the cushiest births possible. However, I thought the film moved slowly, and there were scenes that were meant to be funny - David's pursuit of his wife at the Hoover Dam and Linda's obsession with twenty-two on the roulette table - but they failed to be all that amusing. Overall, Lost in America is a very good satire, but not all satire leads to hilarity.
Jim Hunter
Super Reviewer
Seemed very short, but then again I watched this while I was on an RV trip and it was only on in the background at first. I wasn't fully paying attention to some of the early parts. I didn't find it as funny as I expected it to be. The movie should be called Lost in Las Vegas because that is the only major destination the couple has. The couple stays in a casino hotel though the point of RVing is that it is a home on wheels with a bed and kitchen and everything. She loses most of their money and they try for awhile to find entry level jobs in a small town. They then quickly decide to go beg for their old jobs back in New York. There is a cheap shortcut music montage film trick to cover all the time it takes for them to drive back to New York. They don't live free on the road. They don't see America. Disappointing!
Byron Brubaker
Super Reviewer
Lost in America Quotes
There are no approved quotes yet for this movie.