Lost in La Mancha
(2003)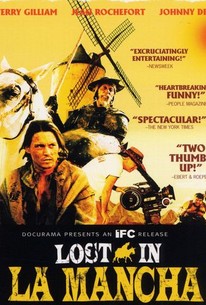 TOMATOMETER
AUDIENCE SCORE
Critic Consensus: A remarkable behind-the-scenes look at a movie that wasn't, Lost in La Mancha is an incisive, entertaining document of the difficulties inherent in the moviemaking process.
Movie Info
A documentary that details and depicts the pre-production and the first six days of production of acclaimed director Terry Gilliam's ill-fated attempt to film "The Man Who Killed Don Quixote" in late 2000. Piece by piece, the entire production ended up falling apart. A series of events conspire to shut down the project altogether: a severe storm washing away equipment; jet fighters interrupting the filming of the pivotal and somber Inquisition scene; and the star suffering a damaging back injury. Gilliam's decades-long dream to make a film based on Don Quixote came to a grinding halt--but it was all captured on film. Thus, what was expected to be, simply, a special documentary featurette--shown as part of the film's eventual DVD package--is now the basis of the film, itself.
Critic Reviews for Lost in La Mancha
Audience Reviews for Lost in La Mancha
½
This documentary is a great example of "Development Hell," a place where good ideas for movies go to die. Gilliam seems prone to this problem since the box office bomb that was "Baron Munchausen" and in this film he finds himself growing desperate after funding dwindles, the budgetary schedule remains tight, and actors go missing from the set. The film details what "The Man Who Killed Don Quixote" would have been, given the right circumstances, but its death seemed to be known from the start. What with the age of the lead actor, the problems on set, weather issues, and budgetary restraints, it's amazing that directors Fulton and Pepe didn't know they were making a memorial for Gilliam's lost dream from the start of production. While this film has still not been made, Gilliam holds out hope that the right time and funding will converge and his long held dream will become a reality. Knowing Gilliam's vision and his films thus far we can only hope the stars finally align for him.
Spencer S.
Super Reviewer
½
Terry Gilliam: At least if we're going to be fucked, let's know we're fucked ahead of time.  "They have a story... but they've lost the plot" Lost in La Mancha is a fascinating documentary of Terry Gilliam's failed attempt to bring Don Quixote's story to life in film. He had worked over a decade on the film and says countless times throughout this documentary that he has ran through it in his mind several times. Jeff Bridges narrates and there are several interviews from the crew and actors, including Johnny Depp, working on the picture.  Gilliam and his team have to work through endless amounts of bad luck, including planes flying over while they are shooting, bad weather and a lack of funds. Worst of all, the actor playing Don Quixote(Jean Rochefort) isn't in the best of health. It's said that Gilliam isn't the only one to try and fail to make an adaption of Quixote. Orson Welles tried for many years to make Quixote, but never ended up finishing it. Lost in La Mancha is a pretty entertaining and extremely interesting look at some of the struggles that occur during production. It's definitely worth a watch if you enjoy seeing how films are made, or in this case tried to be made.
Melvin White
Super Reviewer
Lost In La Mancha is a video diary of Terry Gilliam's attempt to make his adaptation of Don Quixote in which a modern day advertising executive finds himself transported back in time and mistaken for Quixote's faithful companion Sancho Panza. Failing to get financial backing from Hollywood because of the shadow of his one heroic failure Baron Munchausen looming over his head (despite the fact that he had made financial successes before and since), he tried to make the film using European money and although he was forced to work with half the budget he would have liked, it was actually shaping up quite nicely. Unfortunately a catalogue of catastrophes plagued the film in the first week of shooting, from the set being buzzed by F-16s to the star being diagnosed with a double hernia. Not to mention the fact that Gilliam had to watch all of his equipment being washed away by a freak flash flood! It's actually a fascinating look behind the scenes of the movie making process; from Gilliam's mind's eye being transformed into storyboards, to the process of costume design, make up, scouting, screen testing and eventual (if disastrous) shooting. The footage that was actually shot (of which there is maybe a minute!) looks like it could have been another of his great successes and it is strange how there seems to be a real parallel between Quixote and Gilliam himself; in this case the grim reality that defeats him is represented by the insurance men who avoided paying out by claiming that a 70 year old actor falling ill was an "act of god". It makes you wonder why any of us ever pay for insurance for anything in the first place. The suits still own the rights to his script, and I for one hope that Terry will continue to shout at these pinstriped windmills and never accept defeat.
Lost in La Mancha Quotes
There are no approved quotes yet for this movie.