Lost In Translation
(2003)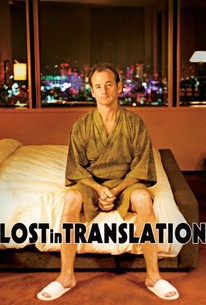 TOMATOMETER
AUDIENCE SCORE
Critic Consensus: Effectively balancing humor and subtle pathos, Sofia Coppola crafts a moving, melancholy story that serves as a showcase for both Bill Murray and Scarlett Johansson.
Lost In Translation Videos
Lost In Translation Photos
Movie Info
After making a striking directorial debut with her screen adaptation of The Virgin Suicides, Sofia Coppola offers a story of love and friendship blooming under unlikely circumstances in this comedy drama. Bob Harris (Bill Murray) is a well-known American actor whose career has gone into a tailspin; needing work, he takes a very large fee to appear in a commercial for Japanese whiskey to be shot in Tokyo. Feeling no small degree of culture shock in Japan, Bob spends most of his non-working hours at his hotel, where he meets Charlotte (Scarlett Johansson) at the bar. Twentysomething Charlotte is married to John (Giovanni Ribisi), a successful photographer who is in Tokyo on an assignment, leaving her to while away her time while he works. Beyond their shared bemusement and confusion with the sights and sounds of contemporary Tokyo, Bob and Charlotte share a similar dissatisfaction with their lives; the spark has gone out of Bob's marriage, and he's become disillusioned with his career. Meanwhile, Charlotte is puzzled with how much John has changed in their two years of marriage, while she's been unable to launch a creative career of her own. Bob and Charlotte become fast friends, and as they explore Tokyo, they begin to wonder if their sudden friendship might be growing into something more. ~ Mark Deming, Rovi
Critic Reviews for Lost In Translation
Audience Reviews for Lost In Translation
½
With performances as good as this, your film is destined for greatness. "Lost in Translation" is a fairly simple story that is told wonderously and really leaves you wanting so much more at the end. That can be a good or bad thing for some films, but the ones that pull it off great and leave you satisfied while still wishing you had ore coming are the ones that succeed, and that is this film. Scarlett Johanssen and Bill Murray have some of the best on-screen chemistry I have ever seen and they make the scenery that much nicer to look at. Both on business trips while away from their significant other, they begin to feel a connection. Where this film takes them and their explorations shown are truly unique and fantastic on film. Beautifully shot, well-acted, and superbly directed, "Lost in Translation" is worthy of every award it has ever achieved.
Like all of Sofia Coppola's films, Lost in Translation is beautiful, intimate, and mesmerizing. Visually stunning--with a brilliant use of music--and exceptionally written and acted, the film is a reflection on life, freedom, and the lessons we learn from one another and from finding our place in the world. Bravo!
Matthew Samuel Mirliani
Super Reviewer
½
Had to rewatch this as I've now been to Japan and seen it for myself. It makes the film much more believable and touches me in a different way now, a whole new experience as I can relate to the story and the surroundings. The thing that struck me is how accurate the film is, I know exactly how the main characters feel (mainly Johansson) in and amongst the huge sprawling, towering, crowded metropolis that is Tokyo. The strange feeling of being alone around hundreds and not being able to communicate, not really being noticed, it is a perfect visual picture of feeling isolated or living in a strange solitary state. Coppola captures the small niches of the country and its people, how they live, eat and relax etc...its a very different world believe me and you can see this in Coppola's direction and use of locations. Of course the performances by Murray and Johansson are brilliant, just right, understated and subtle. Murray starts off in his familiar dry satire type way but evolves into a much deeper person, finishing on a very emotional finale that does put a lump in your throat. And not forgetting Faris as the superstar airhead, very good (and accurate) portrayal there, loved it. The atmosphere and visuals of the film are glorious of course, being filmed entirely in Tokyo and a little in Kyoto. It all looks so familiar now, makes me wanna go back. Much of the film was actually filmed live too, in front of hundreds of Japanese people who had no clue they were making a film! again that's impressive believe me. It also shows how different the Japanese are, no one batted an eyelid to the filming, they saw it as normal or uninteresting and no one recognised Bill Murray. Not a clue who he was and they didn't much care either, anywhere else and people would crowd around making a huge scene. The plot is loose and pretty dull in places I admit, if you have no interest in Japan then you won't like this methinks. I believe a little interest in the country/culture helps here. But essentially its just the two main characters chatting, eating, meeting and going about their daily routines in Tokyo. Over time they fall in love but can't seem to reach out and express this to each other. They both have family/relationship situations which hold them back and make things difficult, its actually quite a realistic little story. Wandering around Tokyo lost a daze of neon lights and bizarre cultural differences. Murray is good with his little work/business sequences (dotted throughout) which offer some comedy, whilst Johansson does more discovering with a segment in Kyoto. A great couple of scenes with Faris offer more laughs when she promotes a Western action flick her character stars in. And a glorious small dinner sequence with Johansson, Faris and the underrated Giovanni Ribisi which involves much awkward small talk and slobbering as Faris and Ribisi's characters flirt. Can't not mention the touching, soft, emotional almost spiritual soundtrack throughout. Absolutely gorgeous choices of music which compliment the individual sequences beautifully. As said the ending is a real tear jerker which you don't think will get you but it actually does. The track by 'The Jesus and Mary Chain' is playing as Murray's character leaves Johansson behind, gotta say this choked me up as its a lovely scene and really makes you care for the characters. A classic underrated love tale that manages to grab you when you think your above it. A surprise hit for me plus a wonderful memory of a beautiful country.
Phil Hubbs
Super Reviewer
Lost In Translation Quotes
| | |
| --- | --- |
| Charlotte: | I tried taking pictures, but they were so mediocre. I guess every girl goes through a photography phase. You know, horses... taking pictures of your feet. |
| | |
| --- | --- |
| Bob Harris: | The more you know who you are and what you want, the less you let things upset you. |
| | |
| --- | --- |
| Bob Harris: | (Inaudible whisper) |
| Bob Harris: | [inaudible whisper] |
| | |
| --- | --- |
| Bob Harris: | For relaxing times, make it Suntory time. |