The Lost Treasure of the Grand Canyon
(2008)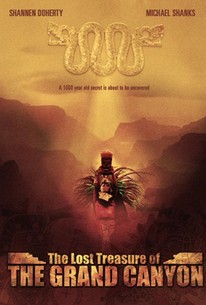 AUDIENCE SCORE
Critic Consensus: No consensus yet.
The Lost Treasure of the Grand Canyon Photos
Movie Info
The search for an ancient treasure turns deadly when a group of fortune-hunting adventurers fall victim to a powerful Aztec curse. At the dawn of the 20th Century, Dr. Samuel Jordan (Michael Shanks) led a team of explorers deep into the Grand Canyon in search of a mythical lost city. They were never heard from again. Convinced that her father is still alive, Dr. Jordan's archeologist daughter Susan (Shannen Doherty) assembles a rescue party and guides them into the uncharted valley. There, Susan and her team come into contact with an ancient civilization that practices human sacrifice in order to appease a mythical monster that thrives on carnage. With savage warriors closing in on all sides and an unimaginable evil hot on their heels, the terrified explorers struggle to escape before they become the guests of honor at a horrifying ancient ritual.
Critic Reviews for The Lost Treasure of the Grand Canyon
There are no critic reviews yet for The Lost Treasure of the Grand Canyon. Keep checking Rotten Tomatoes for updates!
Audience Reviews for The Lost Treasure of the Grand Canyon
½
Decent start, acceptable though rarely seen CGI monster, really cheap sets, laughable character actions, and capped by a pathetic ending with a team of archaeologists going through an eye-rolling cycle of getting captured and escaping from a retarded Aztec tribe. As for that "lost treasure" in the title - it must have stayed lost because we sure don't see any of it! Heather Doerksen's character doesn't have an arc, her path can only be traced by Silly String. First she's a strong-willed feminist, then mysterious cat burglar, then greedy mercenary, then sympathetic protector, then backstabbing turncoat, then genocidal advocate, then selfish coward, then buried beneath an avalanche, only to survive to fall in love with the rescuing native! Shannen Doherty probably wishes she was back in Beverly Hills. And junior directors take note: if you're going to try and recreate the Arizona desert, filming in British Columbia is not going to lend much authenticity.
Doctor Strangeblog
Super Reviewer
The Lost Treasure of the Grand Canyon Quotes
There are no approved quotes yet for this movie.