The Lost World
(1960)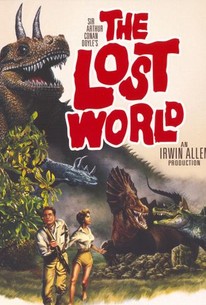 AUDIENCE SCORE
Critic Consensus: No consensus yet.
Movie Info
Sir Arthur Conan Doyle's story of an expedition to a remote plateau rumored to be the home of prehistoric beasts, already the basis of a 1925 sci-fi classic, is again brought to the screen in Irwin Allen's lesser version. Claude Rains stars as Professor Challenger, who leads a team of fellow scientists and adventurers deep into the Amazon jungle. The team must battle unforgiving jungle conditions before arriving at the isolated plateau that is their final destination. There they discover a strange group of prehistoric beasts and unexpectedly find themselves in a fight for survival. While the 1925 Harry Hoyt version is still considered noteworthy for its ground-breaking stop-motion effects, Allen relies on enlarged footage of modern-day animals dressed up as their prehistoric counterparts, a technique that has aged less gracefully. ~ Judd Blaise, Rovi
Critic Reviews for The Lost World
All Critics (3) | Fresh (0) | Rotten (3) | DVD (1)
No one behaves as if their life is at stake, instead opting to make levity-filled remarks or stand around dumbfounded as terror strikes.
Probably great stuff for the kiddies, this expensive science-fiction opus is ludicrous fare for grownups.
Incredibly stiff adaptation of a Sir Arthur Conan Doyle sci-fi story.
Audience Reviews for The Lost World
Classic Arthur Conan Doyle tale that has had a few incarnations over time. Its your standard adventure formula which has been used time and time again largely by Amicus films starring Doug McClure. Along with Edgar Rice Burroughs these two chaps pretty much started a fantasy boom that has influenced damn near everything ever since!. The plot, again, is your standard fare. A group of adventurers travel to a far off land (Venezuela, which is mentioned) and to a mysterious flat mountain. Once there they do indeed discover dinosaurs are alive and well alongside human tribes all of which time has forgotten it seems. Of course they get trapped on the mountain and end up getting caught by the cannibal tribe. But they manage to escape both the tribe and the mountain during a predictable volcanic eruption. The only main difference with this tale is the group of adventurers don't get lost at sea, or underground, or in the air etc...and end up in a lost world. This lost world is merely deep within the jungles of South America, oh and they didn't get lost in those jungles, they knew where it was. Doh! I forgot to mention the stereotypical scantily clad native tribeswoman with long flowing dark hair and plenty of eye makeup. You always come across scantily clad native females in these lost worlds, really must go to one for my next holiday. The film itself is a very poor looking cheap affair to be honest, nothing really looks any good here. The jungles and cave interiors are all terrible looking and clearly fake, whilst the dinosaurs are real cold blooded creatures like lizards and small alligators with tacky fins/scales glued on (visibly so). The usage of real live creatures for the dinosaurs unavoidably means nasty looking superimposed/bluescreen sequences with actors in front of them. This procedure never looks great frankly but here it looks really poor, doesn't look as though they even tried to make it look reasonable. Of course when these reptiles battled each other it doesn't help that their fake fins/plates/frills are wobbling all over the place. The less said about the giant spider sequence the better methinks, oh the horror!. The film has been changed from the original novel of course, as expected, and does suffer. The human cannibal tribe shown in this film do nothing! (and there's only one tribe). They merely capture the group and stick them in a huge cave which allows them all to escape easily 'oh look there's a path, maybe that's the exit?'. So as the goodies escape the natives simply while away their on screen time with dancing to a drum. When they get bored they check their prisoners, oops they've gone, should have cut back on your drum beating mate. And yep you've guessed it, the whole film/adventure ends on the horribly over used complete destruction of everything note. Yep the big ass volcano goes off just as the goodies and escaping, I half expected Doug McClure to rescue them at one point. These 18th/19th Century writers loved to end their adventures with a volcano or earthquake didn't they. This really does look like the poor mans adventure flick even for 1960, compare it to 'Journey to the Center of the Earth' and you see my point. Even the likes of Claude Rains with his grumpy gruff 'Professor Challenger' can't really save it. The cast is unique in the fact it includes Rains plus Bond girl Jill St John, Bond actor/TV star David Hedison and Lorenzo Lamas' father Fernando. The ending could of set up a Godzilla style sequel with the baby T-Rex they save. Speaking of dinosaurs this film really could of done with a lot more of them. Even though they clearly looked like lizards with plastic stuck all over them they were fun to watch, better than the constant drum beating grunting cannibals.
Phil Hubbs
Super Reviewer
½
Not as great as the original film adaptation, I'm sure. Sometimes pure cheesiness is hard to swallow.
Tim Salmons
Super Reviewer
The Lost World Quotes
There are no approved quotes yet for this movie.