Lourdes
(2010)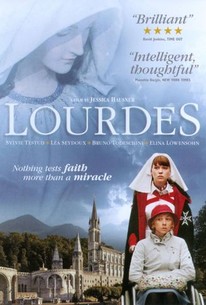 TOMATOMETER
AUDIENCE SCORE
Critic Consensus: As bewitchingly ambiguous as it is beautifully shot, Lourdes explores profound themes with subtlety and a deft comic touch -- and a marvelous performance from its star, Sylvie Testud.
Movie Info
Christine has been confined to a wheelchair for most of her life. In order to escape her isolation, she makes a journey to Lourdes, the iconic site of pilgrimage in the Pyrenees mountains. She wakes up one morning seemingly cured by a miracle. The leader of the pilgrimage group, a handsome 40-year-old volunteer from the Order of Malta, begins to take an interest in her. She tries to hold on to this newfound chance for happiness, while her cure provokes envy.
Critic Reviews for Lourdes
Audience Reviews for Lourdes
½
A beautifully subtle lead performance from Sylvie Testud truly gifts this unusual and enigmatic film that can be read a multitude of ways (undoubtedly depending on the viewers own spirituality and/or religious beliefs), even to the point where it becomes unclassifiable (drama, black comedy, satire).
Daniel Parsons
Super Reviewer
½
So thats what Lourdes is like? What a depressing place. An endless procession of ritual and prayer, hope and despair, and maybe, just maybe the chance of a miracle, but most likely, not a chance. A thought-provoking, slow (well, your main character IS paralized from the neck down) and pragmatic film about the possibilities of faith and grace..
I saw this at the Cleveland International Film Fest. It reminded me a bit of Fellini's Nights of Cabiria especially with its presentation of Catholic rituals. Sylvie Testud does a wonderful job in portraying Christine as a real person with real depth. But there is a great cast of characters surrounding her. I found that the movie is really about how the whole group of pilgrims seeking healing and the red cross helpers react to Christine and the miracle promising site of Lourdes. The movie is slowly paced. Sometimes the camera lingering over the landscape or faces that are still and quiet seems a bit much. But when it lingers on the religious ceremonies and holy places it reveals the repetition and sometimes meaninglessness of these old traditions. People put so much hope in them anyways. I think that this movie was made in a way though that will let believers continue to believe and non-believers continue to doubt. It is ambiguous. I liked some of the advice the head priest and the head lady of the red cross gave a couple times though I disagreed with their assuming that all miracles and personal changes are a result of faith in God, Jesus, or Mother Mary. I liked hearing the doctors' scientific explanation for the roller coaster ebbing and flowing of multiple sclerosis symptoms. I liked the questions the two single middle aged ladies asked throughout as they try to make sense of it all.
Byron Brubaker
Super Reviewer
Lourdes Quotes
There are no approved quotes yet for this movie.