Love
(2011)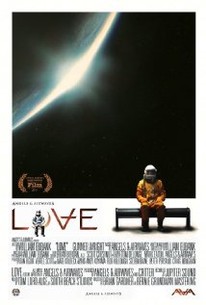 Movie Info
After losing contact with Earth, Astronaut Lee Miller becomes stranded in orbit alone aboard the International Space Station. As time passes and life support systems dwindle, Lee battles to maintain his sanity - and simply stay alive. His world is a claustrophobic and lonely existence, until he makes a strange discovery aboard the ship.
Audience Reviews for Love
MisterYoda ?
Super Reviewer
This directorial debut of filmmaker William Eubank was a little bit different from what I expected. I wasn't aware of the story, which portrays the personal-psychological effects of isolation and loneliness. It was interesting scratch on the surface of the possibilities what could happen when an astronaut becomes stranded in space ... what is the importance of human connection and love in those moments? This movie tried to touch a little bit of everything but mostly emphasized fragility of mankind's existence (explored through a dying Earth-apocalyptic doomsday scenario) inspired by the cautions of Carl Sagan in Pale Blue Dot. For the creators - the importance of memories and stories is huge and they actually are the humanity's legacy. When you think, all these questions were a part of the movie which tried to go deep as possible, but somehow didn't manage it right. The actual space-station set was built in William Eubank's parents' backyard. According to Tom DeLonge, the production was going to rent the space station from the movie Apollo 13 but instead opted to construct it from salvaged materials for budget reasons. I could not see a problem with it (check the photo of the "space station"). [img]http://s10.imagestime.com/out.php/i868765_EubankLove2011FigurISSSetExt1.jpg[/img] If you like movies which are clear, sharp and the time linear, after watching this work of art you will be frustrated like never before. Everyone else in the audience could engage in a challenge of understanding what is what ... and may lead to a desire for repeat viewings... I didn't enjoy it s much as some of my RT, but I am glad I didn't miss it.
Love Quotes
There are no approved quotes yet for this movie.