Love Actually
(2003)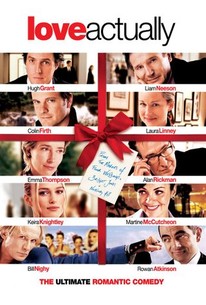 Movie Info
All of London is in love -- or longing to be -- in Four Weddings and a Funeral writer Richard Curtis' first directorial effort. Billed as "the ultimate romantic comedy," Love Actually involves more than a dozen main characters, each weaving his or her way into another's heart over the course of one particularly eventful Christmas. The seemingly perfect wedding of Juliet (Keira Knightley) and Peter (Chiwetel Ejiofor) brings many of the principals together, including heartsick best man Mark (Andrew Lincoln), who harbors a very unrequited crush on Juliet. There's also recent widower Daniel (Liam Neeson), trying to help his lonely stepson Sam (Thomas Sangster) express his true feelings to a classmate. Across town, devoted working mother Karen (Emma Thompson) tries to rekindle the passion of her husband, Harry (Alan Rickman), who secretly pines for a young colleague of his. In the same office, the lonely Sarah (Laura Linney) not-so-secretly pines for a man just a few desks away (Rodrigo Santoro), who returns her affections but may not be able to dissuade her neuroses. Providing the unofficial soundtrack for all of the couples is an aging rocker (Bill Nighy) who just wants to cash in and get laid -- but even he might find a meaningful relationship in the most unlikely of places. A working print of Love Actually premiered at the 2003 Toronto International Film Festival. ~ Michael Hastings, Rovi
News & Interviews for Love Actually
Critic Reviews for Love Actually
Audience Reviews for Love Actually
½
Too many characters and stories, about half hour too long, and at times so stupid it was insulting (for example the American girls. Yeah, that would happen). I honestly can't understand how this is such a liked movie. It is right up there with Notting Hill for me, (which also sucks). 27/10/16 Rewatch after many years. I have upgraded a star and a half. I think I was quite harsh. It's not perfect, and I still hate the twat with the American girls, but actually it is not a bad xmas movie. I think I wasn't watching properly the first time. It's cheesy as all hell, don't get me wrong, but the cast are decent and the old rocker is amusing.
Nicki Marie
Super Reviewer
Chock full of popular songs here is a a Christmas card from England to us all ... or at least it feels like that. And it feels good. And so, in time for the season and lest I forget, a very Merry Christmas to everyone. God bless us all ... everyone.
Kevin M. Williams
Super Reviewer
Some believe "Love Actually" is a senseless gimmick - a surface holiday love story with beautiful people... and not even a holiday story at that, as seen from recent vehement debates (and maybe not even beautiful people, owing to the goofus face of Kris Marshall who's at least got a big knob). For me and countless others though, never has so many intertwining stories meshed so well with the messages of peace, goodwill, love of all kinds, and even gifting. There is seriously no character or storyline that I don't like. To those who say Jamie and Aurelia falling in love without speaking the same language is stupid and unrealistic, consider the intuitive connection that some people have and how they understand each other and communicate through actions and looks other than words, forming emotional bonds through the journey of misunderstanding and miscommunication. To those who say Sarah's an idiot for answering her mentally ill brother's phone call in the middle of getting it on with hot Karl, consider how that obsessive impulse of hers is to show that she needs to take care of him as much as he needs taking care of, and perhaps that's why she shouldn't have a romantic relationship right now. To those who hate Mia for seducing Harry, consider the slut-shaming double standard of women always being the seducers and the men always having no choice but to be seduced. Mia flirts with her married boss; he is still culpable for deceiving his wife. To those who think Colin and the American quintet is misogynistic and anti-American, consider the pure, "lust, actually" fantasy fulfillment in an otherwise pretty earnest, British movie. In an arguable attempt at showing female agency, Colin is no longer the pushy manwhore; the women are now the pursuers, and their totally obvious macking techniques show that they are quite aware of the easy-American-girl-who-falls-for-foreigners stereotype, and they use it to their advantage. To those who say Mark is a pansy for harboring romantic feelings for Juliet, a woman he seems to hardly know (as evidenced allegedly by their few scenes together), consider her honest self-deprecation (claiming she's nice aside from for her bad taste in pie), amiability (in hoping she and Mark can be better friends), and direct motivation (in pursuing the video she knows he clearly has). In sum, she HAS a personality and is certainly likable, even lovable. To those who say they are both douches - he for professing his feelings and she for kissing him - consider Mark's utterly agenda-less act of love as a gift of truth, friendship, and apology for his coldness, and Juliet's kiss as one of comfort and thanks. I love "Love Actually," and anybody who doesn't should get a heart!
Alice Shen
Super Reviewer
Love Actually Quotes
| | |
| --- | --- |
| Harry: | [while waiting for Rufus to finally finish wrapping his gift] Almost finished? What else can there be? Are you going to dip it in yogurt? Cover it with chocolate buttons? |
| | |
| --- | --- |
| Billy Mack: | Let's get drunk and watch porn! |
| Billy Mack: | Let's get pissed and watch porn. |
| | |
| --- | --- |
| Jamie: | It's my favorite time of the day.. driving you. |
| Aurelia: | It's the saddest part of my day, leaving you. |
| | |
| --- | --- |
| Sam: | Let's do it. Let's go get the shit kicked out of us by love. |