Love & Distrust
(2010)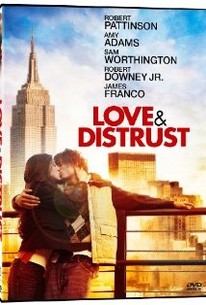 AUDIENCE SCORE
Critic Consensus: No consensus yet.
Movie Info
Director Eric Kmetz takes the helm for this ensemble drama following eight individuals from diverse backgrounds on their quest for true contentment. James Franco, Robert Downey, Jr., Amy Adams, Sam Worthington, and Robert Pattinson star.
Critic Reviews for Love & Distrust
There are no critic reviews yet for Love & Distrust. Keep checking Rotten Tomatoes for updates!
Audience Reviews for Love & Distrust
What a bait and switch! First of all my wife made me rent this for $.99, so I'm not too mad. She sees Mr. Robert Pattinson on the cover and game over. He is in this film for 3 minutes or less. It is five low budget short films that have really bad cinematography. The first two segments take place in the Sixties. The Pattinson one is set in France during the night of the Apollo 11 moon landing, WTF??? The set design was so bad that I actually thought that it was a costume party, not actors playing hippies. Interesting fifth and final segment: James Cameron playing himself interacting with Robert Downey Jr playing car detailer or something. The Amy Adams one and the James Franco one were the only two shorts that made any sense.
Sean Gillespie
Super Reviewer
½
Not sure what to make of this as how to rate this there?s 5 movies with some form of a love theme to it. There?s many current stars among them like Rob Pattison has a part in the first one. Michael Imerioli (sopranos) in Auto Motives as well as suppose to be Robert Downey Jr. (but don?t recall seeing him) Amy Adams in the Pennies segment & James Franco & Racehel Miner (supernatural) in the Grass Hopper one & Sam Worthington in Blue Poles (you can also see Sam?s short Blue Poles can be found on his Flixter Best Movies & Characters page. I like that there?s a few different ?movies? but just not sure how to rate as a whole or individually. So I'm just going to give it a half Half star rating. i liked that there were a few different movies (shorts) to watch kind of a new concept but for me the shorts are hard to rate & review as for me there really isn't enough to go on other than I liked this story or that. (I think Penies was one of the cooler ones tho)
Kym (c my community profile) Ragarsson
Super Reviewer
Absolutely cussing horrible. It takes a lot for me to turn films off, but I had to with this one...
Christopher Haskell
Super Reviewer
Love & Distrust Quotes
There are no approved quotes yet for this movie.