Love & Sex
(2000)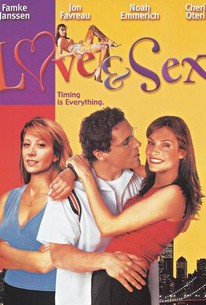 Movie Info
Jon Favreau and Famke Janssen star in this slick indie film about love, romance, and jealousy. Kate (Janssen) almost gets fired from her posh magazine job when she submits an overly graphic, overly personal article on oral sex. As she rewrites her piece, she reminisces on her past flames, particularly on her most serious relationship -- with Adam (Favreau), a fast-talking, very neurotic painter. The film traces their romance from their initial heady meeting, to moving in together, to an unexpected pregnancy, and the inevitable breakup because Adam felt trapped. Devastated by Adam's sudden defection, Kate goes on a dating spree and manages to drive him crazy by going out with handsome yet shallow video star Joey Santino (Josh Hopkins). Meanwhile, Adam grows increasingly obsessed with Kate's private life. This film was screened at the 2000 Sundance Film Festival.
Critic Reviews for Love & Sex
Audience Reviews for Love & Sex
½
Yeah, I'll admit it, I liked this. At first glance it looks like another chick flick, but John Favreau totally turned it into a great comedy. It was totally worth seeing the movie just for his comedic timing. Oh, and this guy in it does just about the most hilariously bad Robert DeNiro impressions i've ever seen.
Conner Rainwater
Super Reviewer
Surprisingly well made, and a double surprising good cast of the two leads, instead of the usual flat boring actors this movies usually have (Richard Gere, Sandra Bullock, Hugh Grant, etc etc) Jon Favreau makes up for a very convicing average joe type of character, and Famke Janssen can actually act, she just happens to pick shitty roles in shitty movies. I guess those pay more than movies like this one. Also, this gives some hope to any average guy out there that maybe, just maybe, getting a piece of ass like Famke Janssen is not imposible....Nah, it is impossible, better stop dreaming.
Tsubaki Sanjuro
Super Reviewer
½
A fantastic love story between 2 quirky characters. There are alot of laughs in this film...people wish for relationships as cool as this one!
Hogans Hero
Super Reviewer