Love Crazy
(1941)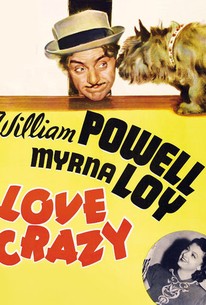 Movie Info
William Powell and Myrna Loy re-team for this (literally) crazy screwball comedy about a happily married couple who, thanks to a visit from mother, find their marriage on the rocks and the husband committed to a mental institution. Poised to celebrate their fourth wedding anniversary, Steven (William Powell) and Susan Ireland (Myrna Loy) find their domestic bliss shattered by a visit from Susan's mother (Florence Bates). Susan's mother sprains her ankle and extends her visit, just in time to draw the wrong conclusions when her son-in-law pays a friendly visit to his old girlfriend Isobel (Gail Patrick). Susan's mother eavesdrops and reports it all to Susan, who in a jealous rage tries to make Steven jealous. But she winds up being chased through the hallway of her apartment building by half-naked archery enthusiast Ward Willoughby (Jack Carson). The couple agree on a divorce, but Steven then has second thoughts. On the advice of his lawyer, George Renny (Sidney Blackmer), Steven pretends he is insane, since the law prohibits Susan from divorcing him if Steven is mentally ill. Unfortunately, Susan is wise to his charade and has him committed to an asylum.
Critic Reviews for Love Crazy
Audience Reviews for Love Crazy
½
I'll start by saying seeing William Powell in drag is probably worth the price of admission on its own. Early on, you also have his playful repartee with Myrna Loy, in this the 10th of the 14 movies they made together. In 'Love Crazy', the happily married couple is about to celebrate its 4th anniversary, but get interrupted first by her mother-in-law (Florence Bates), and then by his old flame (Gail Patrick). In a comedy of errors, Loy thinks Powell has cheated on her, seeks a divorce, and then Powell attempts to postpone the proceedings by feigning insanity. It's fun to see Powell in various screwball moments, including getting his head stuck between elevator doors, pretending he's a teapot, and doing things like shoving round blocks into his mouth. Powell had tremendous range and carries the movie; Loy isn't bad herself, but has less to work with. The movie degenerates a bit towards the end, but it was reasonably engaging and fun to watch.
Antonius Block
Super Reviewer
Another fantastic movie teaming Powell and Loy. It's hilarious! A must see.
Utter nonsense put over by the stars.
Love Crazy Quotes
There are no approved quotes yet for this movie.