Love Exposure
(2011)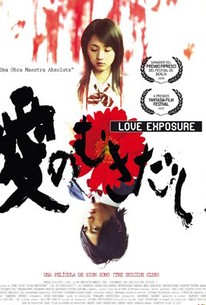 TOMATOMETER
AUDIENCE SCORE
Critic Consensus: An engagingly funny melodrama as well as an ambitious exploration of sexual behavior, Sion Sono's Love Exposure provides nearly four hours of extremely strange and entertaining cinema.
Movie Info
Tokyo teen Yu Honda (Takahiro Nishijima) is the traumatized son of a widower-cum-Catholic priest (Atsuro Watabe), who begins a sexual liaison with parishioner Kaori (Makiko Watanabe). When Dad's affair comes to a halt, he begins admonishing his son to confess to so many sins that the 17-year-old takes up new ones to appease his father's increased religious zeal. One "sin" - surreptitiously taking candid photographs of panties worn by female pedestrians - becomes a vocation. Unfortunately, a deal with a porn company comes undone when Yu turns down starring roles, because he admits he's saving himself for a Virgin Mary-like ideal woman. On cue, the narrative introduces feisty schoolgirl Yoko (Hikari Mitsushima), who loathes men and enjoys beating them up for their moronic attitudes... -- (C) Third Window Films
Critic Reviews for Love Exposure
Audience Reviews for Love Exposure
½
The son of a Catholic priest becomes a master at shooting candid panty photographs, then falls in love with a man-hating schoolgirl and seeks to save her from a cult. This naughty 4-hour comic epic from cult director Shion Sono is a strange and subversive examination of the perversion of purity, and vice versa.
[img]http://images.rottentomatoes.com/images/user/icons/icon14.gif[/img] Love Exposure is one of the most interesting foreign works of the year. It's a movie about political, religious and social ideas, and there's a hell of a lot of them squashed together but it doesn't lack for any heart, emotion and is never for one moment dull. The performances of the cast are amazing and in equal measure the direction is very precise. It's a very emotional film and i'd highly recommend it to art house fans because it's one of the most artsy films i've ever seen. The only problems with this movie are that it fails to maintain a consistent tone and a lot of the scenes in it were unnecessary. This can all be ignored though, because it is still immensely entertaining and will take you on a stylishly surreal ride if you have an open mind for films. To put it simply, weird but undeniably wonderful.
Directors Cat
Super Reviewer
Really weird and 4-hour Japanese comedy-action-drama film about the three emotionally abused individuals from the fringes of society get locked in a convoluted love triangle. I couldn't believe this ridiculous story is true and this mix scenes didn't work very well for me. The overall story about love and religion lacks a bit, but the worst thing is how it's played out. There are so many weird scenes that the overall story gets a bit lost on the way, and you have a hard time appreciating the movie as a whole. But I liked the last confrontation scene while Yu gets crazy, Yoko cries, and Aya kills herself, and then there's no sound, everything was in slow motion. That was very momentous.
Dean McKenna
Super Reviewer