The Love Guru
(2008)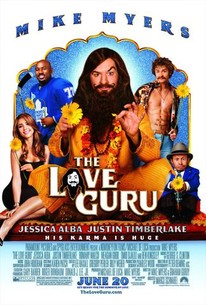 TOMATOMETER
AUDIENCE SCORE
Critic Consensus: The Love Guru features far too many gross-out gags, and too few earned laughs, ranking as one of Mike Myers' poorest outings.
Movie Info
Austin Powers trilogy star Mike Myers collaborates with writer Graham Gordy for this comedy concerning a self-help guru named Pitka (Myers) who devotes his life to unknotting the romantic entanglements of troubled couples. As a young child, Pitka is abandoned at the gates of an ashram in India and taken in by kindly gurus. An American by birth, Pitka absorbs the lessons taught to him by his teachers and later returns to the United States to become a leading authority on spirituality and self-help. While Pitka's methods are decidedly unorthodox, they may be the only means of ensuring that the Toronto Maple Leafs win the coveted Stanley Cup. Maple Leafs star Darren Roanoke (Romany Malco) is in trouble. His estranged wife has recently begun dating L.A. Kings star Jacques Grande (Justin Timberlake) in a vengeful effort to send her husband's career into a tailspin, and when Roanoke starts to falter on the ice, the whole team starts to suffer. As their visions of leading the Maple Leafs to the Stanley Cup are quickly going up in flames, team owner Jane Bullard (Jessica Alba) and Coach Cherkov (Verne Troyer) enlist the aid of the world's best-known relationship expert in restoring the peace between Roanoke and his wife, and getting their team back on track to the championships.
News & Interviews for The Love Guru
Critic Reviews for The Love Guru
Audience Reviews for The Love Guru
A movie so absolutely puerile, unfunny and dreadful in every aspect imaginable that it makes you want to take Mike Myers by the hair and beat him with a tire iron. Is there really still anyone in this planet who thinks that name puns and diarrhea jokes are at all funny? (Zero stars)
Carlos Magalhães
Super Reviewer
A horrible movie. I laughed maybe twice at this crappy film, not only was it stupid, there was no point to it. I cant say anything else about it because it sucked so much.
Jim Careter
Super Reviewer
Mike Myers has done it again. He's made another totally pointless, but beyond hysterical movie. As long as you know it's going to be stupid and going for cheap laughs, then you'll have fun. Justin Timberlake is funnier than I thought he would or could be. Jessica Alba still sucks. But it's a good movie about a love guru helping people fix love while he finds it.
Alexis Nomm
Super Reviewer
The Love Guru Quotes
| | |
| --- | --- |
| Guru Pitka: | People may say bad things about you but you should never say bad things about yourself. |
| | |
| --- | --- |
| Guru Pitka: | mariska hargitay...Mariska Hargitay. |
| Guru Pitka: | Mariska Hargitay...Mariska Hargitay. |
| | |
| --- | --- |
| Guru Pitka: | i once read on a bathroom stall, the joke is in your hand. |
| Guru Pitka: | I once read on a bathroom stall, the joke is in your hand. |
| | |
| --- | --- |
| Guru Pitka: | Give me a pound... lock it down.... break the pickle... tickle tickle! |