Love, Honour and Obey
(2001)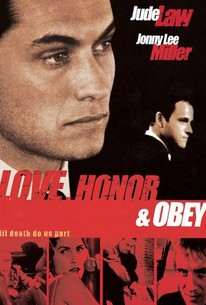 Love, Honour and Obey Photos
Movie Info
Following up on the critical drubbing of the Final Cut, the same cast and crew, TV comedians Dominic Anciano and Ray Burdis, along with Britpack hipsters Jonny Lee Miller, Jude Law, Rhys Ifans, and Sadie Frost, come together to make this crime comedy about guns, karaoke, and fart jokes. The film opens with bored postman Jonny (Lee Miller) in clown-face reminiscing about his mate Jude (Law), who introduced him to his crime lord uncle Ray Kreed (Ray Winstone). Though Jonny is hungry for some action, Ray is more interested in karaoke and his impeding nuptials with soap star Sadie (Frost). Bored, Jonny, along with Jude, bungle a credit card scam and then later really screw up by robbing high-grade blow from a South London gang headed by Sean (Sean Pertwee) and his sidekick Matthew (Ifans). Soon a gang war ensues.
Critic Reviews for Love, Honour and Obey
Audience Reviews for Love, Honour and Obey
[font=Century Gothic]In "Love, Honor and Obey", Jonny(Jonny Lee Miller) is frustrated being a postal worker and watching overweight men eat their lunch. He is especially depressed at the thought of doing the same for the next twenty years. So, in order to spice up his life, he seeks to sign on with the mob of Ray(Ray Winstone) whose nephew, Jude(Jude Law), he was childhood pals with.(Ray is also engaged to be married to Sadie(Sadie Frost), a soap opera star.) As an initiation, Jonny has an idea for a credit card scam...[/font] [font=Century Gothic][/font] [font=Century Gothic]"Love, Honor and Obey" starts out as silly(there is a plotline concerning a character's impotence) but then turns serious, darker and admittedly better during the second half. This makes sense, considering we are seeing everything through the eyes of Jonny, who as narrators go, is quite unreliable. [/font] [font=Century Gothic][/font] [font=Century Gothic]Oh, and Ray Winstone is excellent as always, especially when he is singing karaoke.[/font]
I really thought this was an extremely fun movie. It's very much in the same reign of Guy Ritchie's British crime films. It was an excellent blend of comedy and drama, with a ton of street-wise characters. There was a lot of great acting, especially from Ray Winstone and Jude Law.
Conner Rainwater
Super Reviewer
½
Slightly corny, low budget English film and one I have watched so many times, a comedy slant on London Gangster's brought to you by an all star British cast. With music by Oasis and various comical kareoke songs, this film will have you laughing and wincing at the same time, my favourite watch over and over type of film.
Lady D'arbanville
Super Reviewer
Love, Honour and Obey Quotes
There are no approved quotes yet for this movie.