Love in a Puff (Chi ming yu chun giu)
(2010)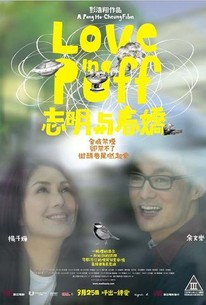 AUDIENCE SCORE
Critic Consensus: No consensus yet.
Movie Info
Nicotine fuels a romance between two Hong Kong office workers in this romantic comedy from writer and director Pang Ho-cheung. Smoking was banned in Hong Kong's public buildings in 2007, and since then most businesses have spawned what locals call "hot pot packs" -- groups of friends who head outside together at particular times during the day for a cigarette. Jimmy (Shawn Yue), nicknamed "Chimney" owing to his fondness for tobacco, works at an advertising agency and heads out for a smoke several times a day with his pals; he notices a pretty girl who works elsewhere in the office, Cherie (Miriam Yeung), who joins her own friends for a cigarette, and he tries to work up the nerve to say hello to her. One day, Jimmy finally talks to Cherie, and it goes well enough that she invites him to join her and her "hot pot pack" for an evening at the karaoke bar. Jimmy is crushed when Cherie brings her boyfriend along, but after a few conversations over a cigarette, Cherie wonders if Jimmy might be a better bet than her current beau. Chi Ming Yu Chun Giu (aka Love In A Puff) received its American premiere at the 2010 Seattle International Film Festival.
Audience Reviews for Love in a Puff (Chi ming yu chun giu)
Hong Kong rom com which captures nicely the cosy camaraderie of a pack of smokers with some well turned scenes showing the sweet and sour aspects of a fledgling relationship.
Love in a Puff (Chi ming yu chun giu) Quotes
There are no approved quotes yet for this movie.