Love in the Afternoon
(1957)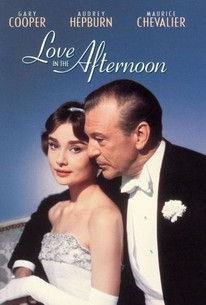 Love in the Afternoon Photos
Movie Info
An aging playboy hires a detective to locate a mysterious young woman.
Critic Reviews for Love in the Afternoon
Audience Reviews for Love in the Afternoon
The premise, that of a gamine and inexperienced French girl infatuated with an American playboy, to the point of enchanting him and foiling a murder attempt, was genius. Audrey Hepburn plays a darling cellist, the daughter of a detective (Chevalier) who comes across a chance to save the dashingly handsome Frank Flannagan (Cooper) from an angered husband. With an air of mystery around her, Hepburn lies about her own sexual prowess in order to drive Flannagan into envy at the thought that the two are evenly matched. Though Wilder made the film into the cute romantic comedy it was meant to be, his own misgivings about the film were correct. Though Hepburn is perfectly cast, Cooper feels a tad out of his element, used to playing the hero in Westerns. Cooper never quite fits in when he's cast in comedies, and his stiff performance seemed the result of yet another awkward casting. The ending (for American audiences) includes an aside by Chevalier that Hepburn and Cooper are not living in sin, but married in New York. It feels patronizing to a modern audience, and if ever there is a director's cut, it should be discarded.
Spencer S.
Super Reviewer
½
Wonderful romantic comedy with Audrey Hepburn as a lovestruck conservatory student who pretends to be just as much a cosompolitan love for millionaire American playboy.
Dean McKenna
Super Reviewer
½
it's more of a billy wilder satire on the modern-day american don juan who's infatuated with the parisian transiet romances without commitments than just an audrey hepburn romantic classic. as "sarbrina", hepburn plays an ingenune (again!) falling for the upper-class playboy gary cooper. obeserving senile cooper frivolously flirts with youthfully fair hepburn leaves you peculiarly wondrous about his attraction to her... a daydreaming schoolgirl who reads adultery cases as touching romantic stories decides to meet the "authentically fictional character" she's read about all her life in her father's "library". she's like a bored junvile who relishes her drably dry life with aficinado-alike enthusiasm toward romantic illusions ...one day she rushes to rescue her dream character from being slaughtered in the hotel room just to preserve her romantic illusions from being obliterated, then as her dream man kisses her randomly, her heart is taken away for good. the character of cooper's mr. flannagan is wilder's mockery to americanism: he's an egoistic arbitrary man in his elder years but romances like an adolescent boy who flatters himself for being "the one who loves and runs aways but lives to love for another day", besides there's no really love except the temporal conquests of excitements, but after his purpose's served, those women are littered like disposable goods. his americanistic naivety obscures such cruelty in his mindset since he always assumes that he could pop in like pepsi cola without giving himself away to anyone out of his self-protective bachelor selfishness. as one dialogue from arianne filled with acid tongue: ""They're very odd people, you know. When they're young, they have their teeth straightened, their tonsils taken out and gallons of vitamins pumped into them. Something happens to their insides! They become immunized, mechanized, air-conditioned and hydromatic. I'm not even sure whether he has a heart"".....""What is he? A creature from outer space?""..."no, he's an american." the irony is that she has to fake to be something she's totally not just to gain his interests for her or arouse his jealousy or shake his pride as retribution by also belittling him as some conquered object without too much worth....the whole flick is more bittersweet than romantic....she's secretly bewailing his casanova fickleness but meanwhile she has to conceal her frailty then comes up with new strategies to stir him...he's utterly fascinated by her becuz of her reluctance to bare herself that stimulates his wishes to penetrate or explore her mystery that she's aware of as well....two are toying with some psychological guerrila, attempted to break through each other's fence....her relationship with flannagan is built upon these provoking deceptions to shield her true helplessness in a world filled with disillusions....as for mr. flannagan, it's more out of morbidly shallow curiosity to dig the truth out of her as trophy. the movie is so bitterly cynical at its pinnacle as the detective father advises flannagan to cut arianne loose when flannagan's about to dismiss him by money then shocked by the fact that he's her father "give her a break, monsieur, she's too young, don't dump her in the gutter like the rest of others"..then flannagan silences with the implicit shame toward his own immorality....it's also agonizing at most when she pursues after the train perilously and tells those tall tales of affairs to him with yearning tears in her eyes while he's standing at the traingate shamefully aware that she only loves him and there's never been another man, out of his frivolosity, she has to lie to be with him...then eventually our don juan has decided to be a mensch that is almost surprisingly moving. furher, the white carnation hepburn takes from cooper's jacket is the blatant symbol of the purity of a girl's first love, and she even freezes it in the icebox girlishly as if she wanna restore what she has had with him even she's conscious that it's an un-requited love only from her side since mr. flannagan is disabled to love....it's so realistically tragic but intoxicatingly sorrowful as a girl's first love...even somehow this love only exists in the afternnon...with the fetching waltz of "the fascination"....
Veronique Kwak
Super Reviewer
Love in the Afternoon Quotes
There are no approved quotes yet for this movie.