Love, Marilyn
(2012)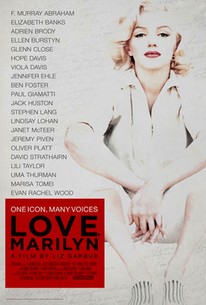 Movie Info
Based on the recent book, Fragments: Poems, Intimate Notes, Letters, edited by Farrar, Straus and Giroux, October 2010, Fragments: Marilyn Monroe, explores the unknown side of Monroe "a deeply curious artist, a savvy businessperson" and challenges the long-held misperception of Marilyn as the dumb blonde archetype. Alongside interviews with experts and former acquaintances, A-list actors read from Marilyn's own writings, bringing her words to a contemporary audience for the first time. (c) Moxie Firecracker Films
Critic Reviews for Love, Marilyn
Audience Reviews for Love, Marilyn
While it's interesting after a fashion to hear these actors read her journals and try to make them come alive, sometimes too empathetically, it becomes repetitive after a while. What could have added an extra needed dimension to this since they gathered such an amazing array of talent is to have these respected thespians, well except for Lohan, tell what value they found in Marilyn's work and what she meant to them.
Love, Marilyn Quotes
There are no approved quotes yet for this movie.