Love Me Tonight
(1932)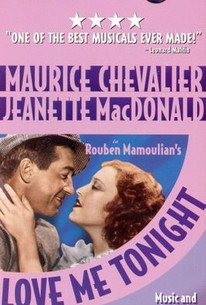 Movie Info
In this musical, Maurice Chevalier stars as a humble Parisian tailor. He and a soon-to-be-wedded patron make up a catchy little song. The song eventually makes its way to a beautiful woman. After that, it is only a matter of time before she winds up in the tailor's arms.
Critic Reviews for Love Me Tonight
Audience Reviews for Love Me Tonight
½
I really liked this movie, one of Chevalier's best. Plus it has an early performance from Myrna Loy, who is just perfect. The whole cast is great. The movie is really hilarious and has good romance and comedy balanced together with a nice story. I recommend seeing it.
Maurice Chevalier stars as a tailor who, in order to collect a debt from an aristocrat customer, poses as a baron (and falls in love with a princess). Of course, at some point the truth must come out, and then we find out if true love will prevail over a little white lie. No, you don't have to watch many romantic comedies to know this storyline is well-worn, but "Love Me Tonight" isn't like those other movies. It's an absurdist musical. The princess (Jeanette MacDonald) has a stuffy old uncle, the Viscount (Charles Ruggles), and the songs he sings have lyrics like "I'd rather throw a bomb at her than have her wed a commoner" in them. There's also some references to "Macbeth" thrown in, as well as an amazing, sprawling version of "Isn't It Romantic?" that was so well done it might've been 20 years ahead of its' time. If you're unfamiliar with Maurice Chevalier, or only know him from "Gigi", you might be surprised by the amount of charisma the guy gives off (or maybe not, if you're familiar with "Pepe le Pew", his homage). The last five minutes or so, with it's rousing songs ("the son-of-a-gun is nothing but a tailor!") and outstanding slapstick, could easily hold it's place with any Marx brothers movie, and the overall charm and character of this film should convince you it deserves to be mentioned in the same breath as the other great musicals of that era.
Devon Bott
Super Reviewer
½
a really charming pre-code musical. i'm not the biggest fan of chevalier or of jeanette macdonald's operatic style, but this won me over. clever staging of musical numbers, ribald humor and a young myrna loy too! thx sarega :)
Stella Dallas
Super Reviewer
Love Me Tonight Quotes
There are no approved quotes yet for this movie.