Love on Delivery
(1994)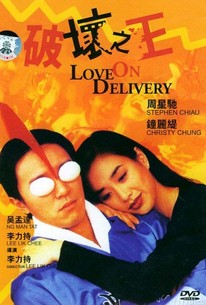 AUDIENCE SCORE
Critic Consensus: No consensus yet.
Movie Info
A love triangle develops between a delivery boy, a judo queen and her coach.
Critic Reviews for Love on Delivery
There are no critic reviews yet for Love on Delivery. Keep checking Rotten Tomatoes for updates!
Audience Reviews for Love on Delivery
½
I am someone who is highly familiar with Stephen Chow's brand of absurdist humor. Chow, in my opinion, is someone that I feel I've probably underrated in my assessment of him. There's honestly very little that I've seen of his, whether he's just an actor in a film and/or also its director, that I haven't enjoyed in some fashion. For a quite a few years, after Kung Fu Hustle came out, which some people still regard as his masterpiece, I felt that it was overrated. At the time, for one reason or another, I just didn't enjoy the film. But, to be fair, that was at a time when I was less familiar with Chow's style than I was when I did re-watch Kung Fu Hustle again a few years ago. On my second watch, the movie definitely did click for me, even if I felt that Chow's character was a major dick for no reason. I don't know if I would regard Kung Fu Hustle as Chow's best movie (as Shaolin Soccer, Journey To The West, The Mermaid are all up there), but it is damn good regardless. Here's the thing about Chow though, for those of you who are uninitiated, as I mentioned earlier, his films are absolutely ridiculous, preposterous, absurd, over-the-top, silly, goofy, I could go on and on and on and on with the adjectives. And, really, that's part of his charm. You know that, at the very least, you're gonna watch a movie that's gonna try it's damnedest to entertain the living hell out of you. I don't know if I should say that that's admirable, but I have to appreciate Chow's commitment to making you laugh. Having said all of that, it is a style that's definitely a bit of an acquired taste. Because, unless you're predisposed to that type of silliness going into your first Chow movie, you're probably not even gonna how to react at all of the madness that you are seeing. I feel that's what happened to me when Kung Fu Hustle came out since, I believe, at the time, that would have been the first Chow movie I had seen in its entirety. Regardless, that's neither here nor there, how about we move on to this movie, shall we??? As I mentioned earlier, this falls very much into Chow's style though, when compared to what came later such as Shaolin Soccer, this one is a little more tame in terms of how over-the-top it is. Don't get me wrong, it's still quite over-the-top, just not as much as what would come later from Chow himself. For the most part, while I felt that it wasn't as good as some of Chow's other films, I felt like this was still heading down a relatively good path. Absurdist humor and silliness are king here in this tale of a weak, but kind, delivery boy learning to stand up for himself and fight back against this judo and karate expert (two different people, not the same person who masters more than one martial arts) after being trained by this charlatan who fleeces him out of his money for whatever minor thing he can think of while teaching him. He does all this to prove to the love of his life that he's not a coward, since she wants a man who's brave and, essentially, heroic. If I'm gonna be completely honest, there's really not much to the narrative. First Chow's character gets beat up by the judo expert. He gets trained in ancient Chinese boxing. He uses this absurd move where he rolls himself (and the judo) expert into a ball and they roll down these massive steps to defeat him in order to protect Li from this guy who, apparently, was just about to rape her for literally no reason. He wears a Garfield mask in order to conceal his identity. Which leads to a funny scene in that seemingly every man in town wears a Garfield mask in order to take credit for saving Li to get a kiss from her, since, apparently, you save people from horrible fates because they'll give you something in exchange, not because it's the right thing to do. Regardless, the parade of Garfields running after Li and then all shoving themselves into a car (like clowns), before, somehow, they all go flying high into the air is very entertaining nonetheless. After this part of the movie, the karate expert comes into the equation and he takes credit for saving Li, even though he wasn't anywhere near the vicinity at the time (he was in Japan). He 'conquers' Li as a result and, later at the press conference, he proposes to Li. Before all of this, however, Chow's character (who's named differently in the Netflix version than this movie's Wikipedia entry suggests) challenges the karate expert to a fight to the death...or something. This fight is going to be broadcast by this struggling TV station hopeful for someone's death, since it mean their ratings will go through the roof. So, yes, in terms of narrative, there's nothing much to write about here. As silly as some of Chow's movies more famous movies are, at the same time, I feel like most of them have stronger characters and narratives than this. There's nothing to this movie other than Chow competing with other martial artists for Li's love. Li isn't really even a real character anyway, she's just a plot device. She's the McGuffin, she has no real personality and she's only there to get Chow's character to fight for her. So there's that. And, to me, while the first half or so of the movie is entertaining, I do feel that the movie starts to drag once they introduce the karate expert. It's like the fight with the judo expert was the story's natural conclusion, but they had to find a way to extend the film for another 45 minutes, since the movie pretty much goes most of its running time, credits only go one minute. And, I'll be honest, while the climactic fight between Chow and the karate expert was good and it led to some good comedy, I felt that the movie pretty much slowed to a crawl to the point where, honestly, I can't give this 3 stars. Like I said, it felt like this movie should have been half as long with how everything was set up. But, unfortunately, it wasn't. It was 92 minutes long and , while that's not long, it certainly felt that long and maybe even longer. So that's a shame. So yes, the first half of the movie was very entertaining, second half dragged a lot regardless of the entertaining climax. This might be the first Chow movie I've seen in ages that I didn't like. Well, I liked parts of it and the parts I didn't like really did drag this movie down quite a bit. This is still decent and I'm certain that most people will like this better than me, but I just felt that its pacing issues in the second half could not be overlooked. This is just one man's opinion, of course, but I can't say I would recommend this because of those pacing issues.
Jesse Ortega
Super Reviewer
Really strange, but very fun Chow flick. The ending is craaaazy.
Christopher Brown
Super Reviewer
Love on Delivery Quotes
There are no approved quotes yet for this movie.