Love Ranch
(2010)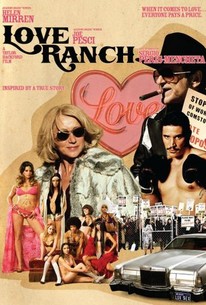 Movie Info
"Love Ranch" is a bittersweet love story that turns explosive when the players in a romantic triangle lose control and cross the line. Set in the late-1970s, the film depicts larger than life personalities living on the edge, Grace Bontempo and Charlie Bontempo, the husband and wife team who own and run Nevada's first legalized brothel. Their lives are suddenly altered when Armando Bruza, a husky, world famous heavy weight boxer from South America is brought to the Ranch to train as part of Charlie's ever-expanding entrepreneurial empire. Plans quickly go awry when Bruza comes between Grace and Charlie as an unforeseen love triangle develops that erupts into uncontrollable passion and murder.
News & Interviews for Love Ranch
Critic Reviews for Love Ranch
Audience Reviews for Love Ranch
½
In "Love Ranch," Charlie(Joe Pesci) and Grace(Helen Mirren) are a married couple who a run a brothel together near Reno, Nevada. As besieged as they are by religious elements that seek to shut them down, Charlie disversifies their interests by buying the gambling debts of Armando Bruza(Sergio Peris-Mencheta), a once promising boxer. His idea is for Armando to fight his way back into contention and to challenge Muhammad Ali for the heavyweight crown. The only problem is that Charlie is a convicted felon and hence cannot manage him. So, he puts Grace in charge. As it turns out, she might not have that much time left which she learns from her doctor(Harve Presnell). Unexpectedly the unorthodox pairing of Joe Pesci and Helen Mirren does not create a massive implosion and actually works quite well. He is not that bad of an actor and, despite being acting royalty, she is unpretentious enough to have fun in the role. Sadly, that's about the only thing that truly works in this mess of a movie which may have once sounded like a great idea but could not find the right tone in front of the camera. Maybe it is about seeking respectability in the new west but it is not really about either Charlie or Armando who drive most of the action. Nor do any of the working women stand out in any way. Grace takes center stage but mostly through default as she is a passive, thinly drawn character who only achieves any depth through the massive force of will of Helen Mirren.
Fair movie. Joe Pesci brings nothing new to his character. It's as if I were watching another actor imitating Joe Pesci in a thug role. The only reason to watch this is for Helen Mirren. Why she took this part is anyone's guess, but even she didn't make this movie interesting...even though she tried.
Cynthia S.
Super Reviewer
½
This film is a fictionalized account of the story of the first legal brothel in Nevada. It had the potential to be an excellent and insightful film. What it turns out to be though, is a half-assed, tired, and bland film that, even though it does have some good scenes and moments, is a really big disappointment and doesn't do justice to a story that deserves it. I mostly place blame on the script. The story is fine, but the film is in dire need of a rewrite. The film decides to not really give a narrative that tells the history of the place, and instead focuses on a few of the characters (in depth) in the context of the ranch. It would be a better film had it been a more balanced account that provides a history of the ranch, as well as great insights into the people who worked there- kinda like Casino or Boogie Nights. In fact, for many reasons I don't even need to explain, this made me think about Casino a lot, and I kinda wished I was watching that instead. Even with the characters who get focused on a lot, they still seems a little thin, and could have been developed a lot mroe and better. There's almost an hour of deleted scenes on the DVD, and while watchjing those, I saw plenty of stuff that could have been kept in the film (with some other stuff taken out). It made me realize that they didn't really have the film planned out fully. EIther that, or they should have just lobbied to go all and make an epic instead of having to pick and choose (and do so sloppily). This film isn't terrible though, even if I am ripping into it. The cast is good, and it is nice to see Joe Pesci come out of retirement. Too bad he, Mirren, Sergio Peris-Mencheta (a guy who does a really great job) and all the others couldn't save it. I'm just disappointed that the film is just all over the place and doesn't do what it could have given the subject matter and particular story. Hackford an okay director, but I don't know what the hell went wrong here, or what he and the rest were thinking. I wasn't bored by this film, but all the crap that's wrong with it makes me feel like I should just split it down the middle and give it an even "Gentleman's C".
Chris Weber
Super Reviewer
Love Ranch Quotes
| | |
| --- | --- |
| Grace: | "Amid all the lies, I knew the truth. That we had it, for a moment, love and truth together. How many people can say that?" |
| Grace: | Amid all the lies, I knew the truth. That we had it, for a moment, love and truth together. How many people can say that? |