Love Sick Love
(2013)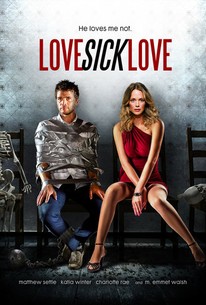 AUDIENCE SCORE
Critic Consensus: No consensus yet.
Movie Info
A 'boy meets girl' romance that turns into a twisted thriller. Dori, a sexy siren, traps Norman, a slick New York businessman and forces him to live through a year of holidays to prove they're a perfect couple. But with Dori, Valentine's Day, Christmas and New Year's celebrations take place over one weekend in an isolated country house far from help or a phone tower. "Love Sick Love" is a complex and suspenseful journey into the darker side of passion.
Critic Reviews for Love Sick Love
Audience Reviews for Love Sick Love
There's a review here for this movie that says that the movie isn't funny enough to be considered a comedy nor is it brutal enough to be considered horror. And, to be honest, I completely agree with this assessment 1000%. I couldn't even agree more with this. I was trying to figure out what the problem was that I had with this movie, and I think that sums it up completely. It's a movie that probably tries too hard to mix its horror sensibilities with its comedic sensibilities. They try WAY too hard, it really goes out of its way to try to make this family seem as perfect as possible in order to sell the brutality of what it is they're doing. I liken this to another horror film sharing a similar concept, The Woman. Here you have this father and son, who've found a feral woman in the woods that they then take to a shed they own. There they proceed to tie her up and completely have their way with her, all the while still pretending to be the perfect husband and the perfect son to the mother of the family. The thing is that The Woman isn't afraid to get nasty and dirty when it needs to, something this movie is REALLY afraid of. All things considered, per horror standards, what happened to Norman in this movie, at least until the climax really isn't that bad. Yea, he is held hostage against his will, and he did get hit across the head with several objects, but his ordeal wasn't exactly horrifying. And, again, this ties back to the issue of the ordeal not being particularly brutal enough to justify it being promoted as a horror movie. What the Muppets did to Jack Black during their telethon in their last movie was considerably worse than what Norman went through here. And I'm not even kidding when I say that. I did think the movie had some funny lines and some solid acting per low-budget horror movie standards, but the film doesn't really have its own identity, it tries to be comedy and horror without ever really succeeding at any of them. There's a good concept here with this woman who would do absolutely anything when she's in love to try to make her significant other into the perfect man. And I do mean absolutely anything. So the concept was at least good enough, and Katia Winter was good as the lead. The execution, however, left a lot to be desired and it made this movie slightly below average.
Jesse Ortega
Super Reviewer
Love Sick Love Quotes
| | |
| --- | --- |
| Dori: | The only true happiness is found in something that I can't control. Love. The irony kind of pisses me off. |