Love Stinks
(1999)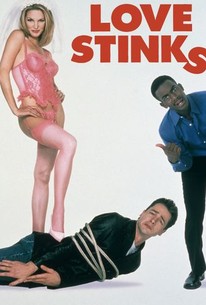 Movie Info
Seth Winnick is a television comedy writer who falls for the beautiful Chelsea Turner when they meet at the wedding of his best friend Larry and his betrothed Holly. Seth's relationship with Chelsea evolves quickly like a missile launch over the next 24 hours. This mirrors the relationship of the characters on Seth's show. The sex is great. Magic is in the air. Love is beautiful. But when things don't move toward marriage fast enough for Chelsea, the relationship starts to sour. That's when the fun hits the fan. It not only affects Seth's personal life but his professional life as well. The nurturing, caring, loving relationship on the show becomes highly combustible. Chelsea versus Seth. It's war.
Critic Reviews for Love Stinks
Audience Reviews for Love Stinks
This movie rocks. I love this movie. It has some of the funniest acting and scripting that I have seen in a while. I can't remember when I laughed so hard. This movie is sort of like "War of the Roses," except this is much more psychotic. I highly recommend this movie to those who like their comedies as black as they come. Plot: French Stewart, who is a TV writer, falls in love with a babe who MUST get married soon. She does everything to advance the relationship far beyond its years. Of course, French does not want this, and it leads to some very dark and funny circumstances. It uses sophisticated humor (i.e. how this affects his show and life overall) as well as completely low-brow humor (i.e. using farts as a weapon of revenge.) Script: This movie has some very funny lines. There are some lines that I almost choked on because I was not suspecting them. I am sure that the next time I see this movie I will pick up some very quotable quotes. Listen carefully to what they say, and you will be highly rewarded. Acting: This has some of the funniest and truest acting that I have ever seen. I actually liked Bill Bellamy in his role. Go see this movie when it comes out just for him. French is really decent, but you have to go with him because "Love will make you do f***ed up things. Everybody else works, especially the girlfriend. The ending just rocks, and it is very fitting. (Unfortunately I have been seeing the ending in the previews...it should be saved.) Everybody should go see this movie. It is very good, and I did not even notice the editing because I was laughing so hard. I took a point off simply because some of the scenes I had seen before
Cassandra Maples
Super Reviewer
Chosen 718
Super Reviewer
Love Stinks Quotes
There are no approved quotes yet for this movie.