The Loved One
(1965)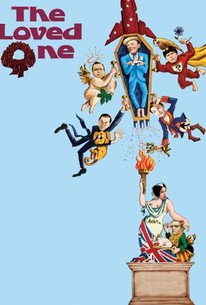 Movie Info
The satire in Evelyn Waugh's darkly comic novel The Loved One was originally double-edged. The book was not only an attack on the Southern California funeral industry but also a lampoon of Hollywood's "British colony," those clannish, cricket-playing English actors of years gone by who bemoaned the artificiality of Tinseltown while eagerly accepting the demeaning and insignificant movie roles they were offered. The film version of The Loved One, anxious to live up to its ad-campaign promise of containing "something to offend everybody," downplays the British-colony business (save for the presence of the magnificent Robert Morley) and pumps up the "death" gags. Innocent British poet Dennis Barlow (Robert Morse) falls in love with funeral-home cosmetician Aimee Thanatogenos (Anjanette Comer), who in turn is loved by prissy funeral director Mr. Joyboy (Rod Steiger). The latter lives with his obese mother (Ayllene Gibbons), whose eating sequence is far more hilarious (and more tasteless) than many of the film's calculatedly "black" jokes. A huge guest-star cast is headed by Jonathan Winters in a dual role as a funeral home manager and his covetous twin brother, who operates an elaborate pet cemetery. Musician Paul Williams is also on hand as a 13-year-old aeronautics genius who develops a method of sending corpses into "eternal orbit" (a plot device that Waugh neglected to include in his novel). Film historian William K. Everson has commented that The Loved One is one of the best and most underrated comedies of the 1960s. For others, especially those who might feel guilty chuckling at the sight of Anjanette Comer committing suicide with an embalming needle, it's purely a matter of taste...or lack of same.
Critic Reviews for The Loved One
Audience Reviews for The Loved One
½
Definitely not for everyone. Pitch black comedy with good acting and some trenchant observations will be loved by some and hated by many but it is certainly unique.
½
A very, very funny film featuring everyone famous in 1964. Irreverent and scandalous (at least for the time). The cameo by Liberace is to die for! If you're in a retro mood and ready for a brouhaha that would knock Amy Semple McPherson on her righteous back, see "The Loved One"!
Christian C
Super Reviewer
½
Evelyn Waugh's clever and at times scathing look at both the film and funeral industries. I find the idea ammusing that the whole concept for the novel on which this film is based, sprung from Waugh's brief experience in Los Angeles while trying to get a film version of Brideshead Revisited put together, Legend has it that he was so taken aback by his experience with the film indurtry and of attending just ONE Hollywood style funeral (with all of it's trappings) that he had to write about it. Thanks goodness he did as the results are hilarious. Written as only Evelyn Waugh can write, we are forced to step back and really take a look at the absurdities of certain people, places and social interactions. With very ammusing results. This was my first time seeing Jonathan Winters in a (mostly) serious role and he was quite good. A young Robert Morse (of Mad Men fame) is superb as the lovable, but bumbling Englishman trying to make sense of it all. And Rod Steiger performance as Mr. Loveboy is beyond discription. There are also cameo's galore throuhout the film. It does suffer a bit from some of the trappings of an "older" film, but for those who appreciate film and literary history...you're in for a treat.
The Loved One Quotes
| | |
| --- | --- |
| D.J. Jr.: | There has got to be a way to get these stiffs off my property. |
| | |
| --- | --- |
| Harry Glenworthy: | Resurrection NOW! |
| | |
| --- | --- |
| Harry Glenworthy: | "Get these stiffs off my property." |
| Harry Glenworthy: | Get these stiffs off my property. |