Lovely Molly
(2012)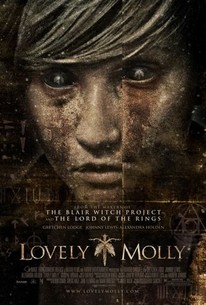 Movie Info
When newlywed Molly Reynolds returns to her long-abandoned family home, reminders of a nightmarish childhood begin seeping into her new life. A malevolent force, whether her own haunted past or some supernatural 'thing,' tirelessly seeks to overwhelm her. Alone and isolated in a centuries-old manor, she soon begins an inexorable descent into depravity. Somewhere in the house, in the terrible space between psychosis and possession, lies an evil that will pull Molly and all those around her into darkness and death. -- (C) Official Site
News & Interviews for Lovely Molly
Critic Reviews for Lovely Molly
Audience Reviews for Lovely Molly
½
*** out of **** The secret to enjoying at least 75% of the smaller, independent horror films released today lies in the ability to suspend disbelief and forgive a lack of true solution. I feel that's what makes a lot of films - both horror and not - fascinating in the sense that they don't provide us with all the answers and essentially force us to think for ourselves (gasp). Is it such a crime that a filmmaker aside from David Lynch (who's famous for doing this) to ask us to play detective for a few hours? I don't think so. If you've been following Eduardo Sanchez since the beginning, you'll know that he's no newbie to ambiguous horror that is open to a number of different interpretations. "Lovely Molly" keeps the tradition going with plenty of pizazz and intrigue. I'll admit that it's more of a while-it-lasts type experience than a film that delivers substantial payoff, but it hits you and it hits you hard. The titular Molly (Gretchen Lodge) is a newlywed who is just settling down in her parent's house, the same house where she grew up as a kid, with her husband Tim (Johnny Lewis). Molly is a recovering drug addict with a sister named Hannah (Alexandra Holden) who also lives nearby. The film begins with the triggering of a downstairs security alarm in the middle of the night that could not have possibly been triggered, since Tim is so sure he locked it before the couple went to bed. By day, he's not around and neither is Molly since she has found work at a local superstore (with Hannah). Sometimes he must go off on business for a few days, leaving Molly all alone. Business unfortunately lands on Molly's birthday, and beyond. Molly begins having strange experiences around the house. Child-like voices are heard coming from the closet, unseen forces are communicating directly with her, and she's starting to pick up her old habits (drug abuse) yet again. When not high on the drugs, Molly is almost psycho-sexual and obsessive. Her behavior bothers Tim, provoking him to call in the local priest (Field Blauvelt), and we all know how reliable he will be. It seems that Molly might be possessed by something. Footage taken from her handheld video camera indicates that the house might have a dark past hidden somewhere in the cellar, although nothing is said for sure. This is another one of those downwards spiral horror films; although by now you should be aware of what I sucker I am for those. Sanchez doesn't bring anything particularly "new" to the multiple genres he's tackling; we've seen this all before and indeed it's been done both better and worse. But once again, I succumb to the fact that he's able to successfully do so many things at once. It proves that he possesses (no pun intended) a natural talent for merging drama with horror. While it's not as much an emotional knock-out as it is an exhausting genre exercise; "Lovely Molly" still packs more of a sucker punch to the gut than most horror films I've seen of recent. Some scenes, like one involving Molly discovering drugs and the tools that one would use to utilize them hidden inside a teddy bear from her childhood in the attic, are absolutely ominous. I might like it even more than I did Sanchez's "Altered", which I gave the same rating. They exist on somewhat different grounds but share similar traits nonetheless. But "Lovely Molly" harkens back to the film that made Sanchez a filmmaker to watch; "The Blair Witch Project". That's a film that I love no matter what the naysayers might say, and while I feel it will always be his baby, "Lovely Molly" utilizes similar slow-rising tension with effective bursts of absolutely animalistic terror. To tell the truth, I thought this movie was disturbing. Not just in what it shows, but what it implies and expects us to create within our minds. I dug the elaborate visual style, the spooky sound design, the themes (I like the aspect of the men who surround Molly in life), and the overall mood of the picture. I believe it will go on to be one of this year's most prized genre possessions, since there don't seem to be THAT many other worthy contenders. This is thoughtful, entertaining genre filmmaking. It's not the best for its kind, and again I will say that it's going to upset those who want straight endings and answers; although I'd rather something choose to be ambiguous and engaging rather than conventional. "Lovely Molly" says no to the easy way out; which is precisely why it lingers for so long afterwards and is more experience than narrative.
Ryan Marshall
Super Reviewer
½
I didn't had any expectations for this one thanks to the amount of bad press this has been having but I've always followed Eduardo Sanchez movies with interest. Blair Witch was super great (I haven't seen it since it hit the theatres dunno if it aged well) and Altered was a fun little alien invasion gory comedy. Lovely Molly has something of Blair Witch going on with the uncertainty of what's going to happen next and why. Surely, we know right from the start that the main character is a troubled one but the director skillfully blends many genres to make the viewer unconfortable thanks to that uneasiness it creates right from the start. Is it a haunting? A psychological thriller? A possession? An indie character study? It doesn't matter for it pays in visceral effect without being explicit. The themes it approaches on the "men" surrounding Moly's life is smart and shares something similiar like last year's also fantastic Martha Marcy May Marlene. It's nothing you haven't seen before on the genres I mentioned early on but the approach is spot on. Add a great, convincing and tough performance by the lead, smart cinematography that like the genres it approaches, uses different techniques to make it work, a haunting dronish soundtrack by Tortoise, smart sound design and this is a little success that unfortunently went unnoticed. Don't expect easy answers of a "resolution", just experience it and it might affect you like it did to me.
Francisco Godinho
Super Reviewer
I liked it, Mysteriously Twisted, Insane and kinky.
Shawn Montague
Super Reviewer