Lovely to Look At
(1952)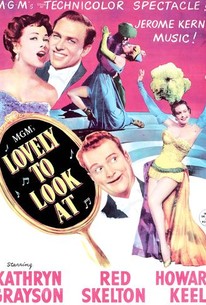 AUDIENCE SCORE
Critic Consensus: No consensus yet.
Movie Info
The reason the 1935 Astaire/Rogers film version of Roberta was unavailable for years was that, in 1952, MGM bought the property and refilmed it under the title Lovely to Look At. Inheriting one-half of a Parisian dress salon from his late aunt, Red Skelton travels to France with his showbiz friends Howard Keel and Gower Champion. The threesome hopes to convince the owners of the other half of the salon to sell their share so that Skelton, Keel and Champion can finance a Broadway show. Meeting Skelton's "partners" Kathryn Grayson and Marge Champion, the three Americans discover that the salon is all but broke, so they pool their resources and wits to make the establishment a winning proposition. The plot thickens as more and more characters are added to the storyline, including stagestruck gendarme Kurt Kaznar and chorus girl Ann Miller. Songs retained from the original Jerome Kern Broadway score for Roberta include "Smoke Gets In Your Eyes," "I Won't Dance" and, of course, "Lovely to Look At."
Critic Reviews for Lovely to Look At
Audience Reviews for Lovely to Look At
Some great songs and excellent production values but missing that spark that takes a good film to a great one. Ann Miller has a lightness that the rest of the cast doesn't, for some reason she only dances once not utilizing her greatest asset. Her one number is a knockout though.
Lovely to Look At Quotes
There are no approved quotes yet for this movie.