The Lover (L'amant)
(1992)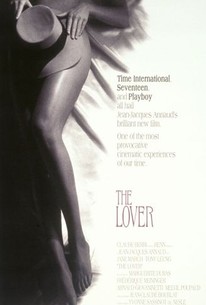 The Lover (L'amant) Photos
Movie Info
The Lover is director Jean-Jacques Annaud's adaptation of Marguerite Duras' minimalist 1984 novel. Set in French Indochina in 1929, the film explores the erotic charge of forbidden love. Jane March plays a French teenager sent to a Saigon boarding school, while Tony Leung is a 32-year Chinese aristocrat. They look at each and they both see a blinding white flash; it's kismet. He offers her a ride in his limousine and soon they meet in his "bachelor room" where they revel in a wide variety of creative sexual encounters. However, they both realize their love is doomed. She comes from a troubled family that includes a mentally-disturbed mother (Frederique Meininger) and drug-addicted brother (Arnaud Giovaninetti). It also appears that her family would not approve of an interracial tryst. But then neither would his family, since in order to inherit his father's wealth, he must not break from a traditional Chinese arranged marriage.
Critic Reviews for The Lover (L'amant)
Audience Reviews for The Lover (L'amant)
On the whole, L'amant strikes me as aloof and disconnected. It has aspirations of being elevated and artsy but offers no reason for empathy or audience connection with the characters. In the end I didn't really care whether or not the two lovers stayed together or parted ways. A beautiful but rather hollow film.
Randy Tippy
Super Reviewer
This movie is set in 1920s Saigon. On a chance encounter on a ferry crossing a rich Chinese man in his 30s meets a French school girl. They start an affair. He loves her but she seems to stay with him for his money as her family are poor. He wants to marry her but is forbidden because of their race and his father has planned an arranged marriage for him. She leaves for France but he never forgets her. Movie content is a little uneasy at times. Also sexually explicit.
Candy Rose
Super Reviewer
Another great Annaud oeuvre. I love the book and this film was very faithful to Marguerite Duras's wonderful, evocative narration. I was very skeptical because so much of Duras's sad, beautiful work is often too abstract, contradictory, ambiguous, and yet Annaud did manage to make episodes linear, comprehensible, but not trivial. There's still so much properly left unsaid about the relationship of a 15 year old French girl and a 32 year old Chinese man. It was quite a relief, actually, to have so much vague, fascinating content put in images, and feelings incarnated in real people. Jeanne Moreau's voice was exactly the type of voice I wanted to hear in an adaptation of L'Amant. Contained, breathy, grave. Tony Leung Ka Fai was also, quite honestly, an accurate choice to play the lovesick man. His performance is one of the most captivating things about the movie, apart from the cinematography and the richness of the story itself. It was a very pleasant surprise, I didn't think I would like it. It's beautiful.
The Lover (L'amant) Quotes
There are no approved quotes yet for this movie.